Hardware Impressions and Analysis
The Fascinate feels unlike almost any other high-end Android device I've had the chance to review so far. Where other smartphones are predominantly metal and thus pack some considerable heft, the Fascinate is lightweight and just a tad plasticky. It's simultaneously amazing that a smartphone can feel so insubstantial, and just a bit unnerving.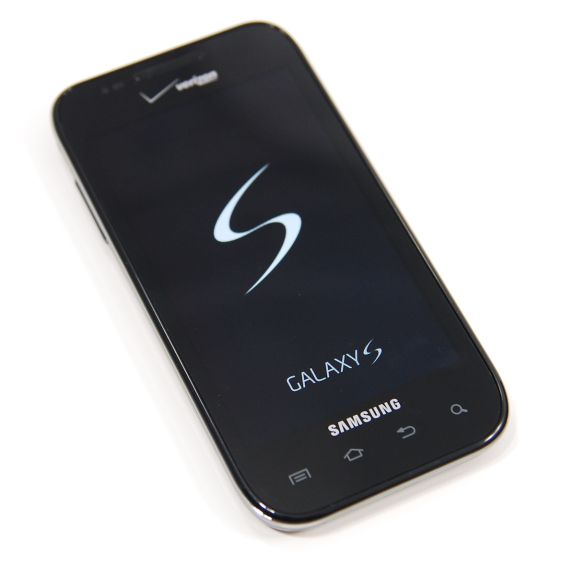 The second thing that's striking about the Fascinate is that it's also incredibly thin. In fact, it's nearly as thin as the iPhone 4:


(Left to right) Motorola Droid 2, Samsung Fascinate, iPhone 4
By the numbers, the Fascinate is just 0.61 mm thicker than the iPhone 4. But it's also 10 grams lighter. You've got our usual comparison table to compare thicknesses on paper, but it's hard to really convey just how thin the Fascinate feels. The rest of the Galaxy S line - with the exception of the Epic - shares this same impressive waistline.
To that extent, whether you like or hate how the phone feels in your hand will depend on whether you gauge quality as a function of mass. If heavier and more substantial translates to better constructed for you, the Fascinate will undoubtedly feel a bit cheap. However, if you're all for lighter and thinner devices, the Fascinate is perfect - it's the kind of device you can forget is in your pocket despite having a 4 inch screen.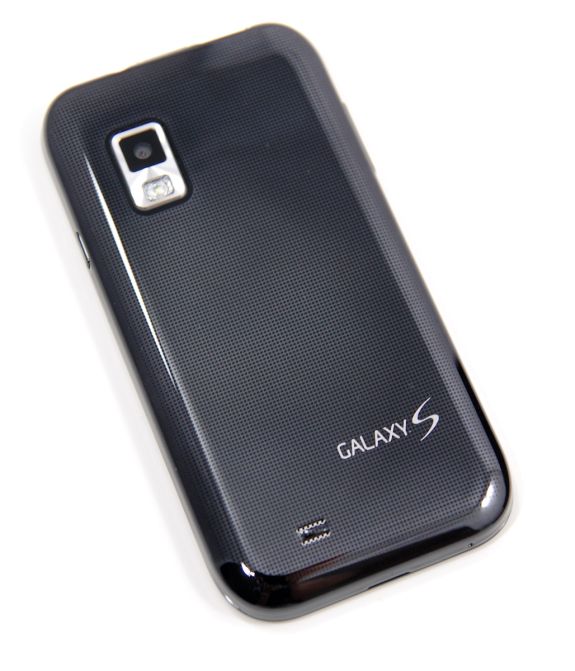 I mentioned that the phone feels somewhat plasticky to me - it's entirely because of the build material you're in contact with. The back cover itself is entirely smooth, glossy plastic. Likewise, the sides and edges of the Fascinate are glossy plastic. The unfortunate consequence of this choice is that - like the iPhone, it's prone to scratching almost immediately and showing fingerprints. Even living completely alone in my pocket for a week or two, the Fascinate's back is now visibly scratched under the right angle of illumination. I promise it isn't as noticeable as it looks here, but it's enough to occasionally shock when the light catches it the wrong way. It's eerily reminiscent of how prone to scratching the iPhone 3G and 3GS backs are.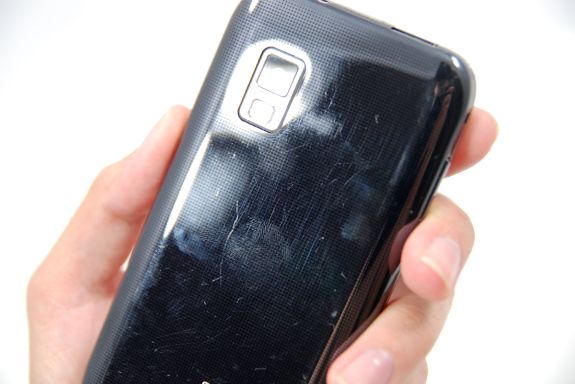 There's a dark glossy checkerboard pattern on the back, but the actual surface itself is completely smooth. The Fascinate's back cover material is thus very similar in nature to the Vibrant.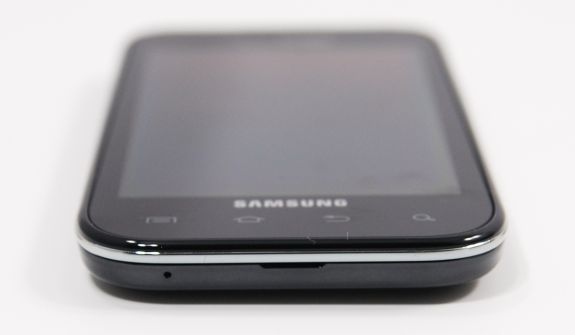 Getting the cover off involves sticking your thumb in a small notch the bottom of the device and literally prying the whole thing off. There's a small raised bit for the speakerphone output on the rear of the device, and two notches for getting that audio out.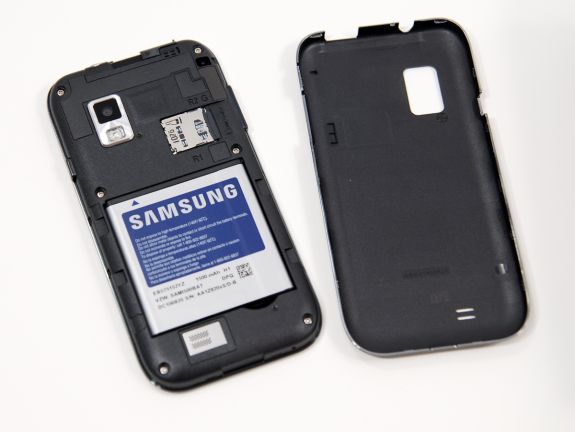 The camera and flash area protrudes through the back cover and doesn't come off. This is nice, as on devices like the Nexus One, there's a second plastic layer between the camera integrated into the back cover where fingerprints and gunk collect, adding to camera glare.
Under the cover, the Fascinate is pretty spartan. There's the click-to-eject type microSD port, and down below is a 5.55 Whr Li-ion battery.
On the left are the volume rocker button and a port for the secondary microphone for noise cancellation. You can follow that port inside to a small chamber where the microphone is. There aren't any markers on the volume rocker - then again up and down are pretty obvious. The volume rocker is also a multipurpose zoom control in the browser and camera application, which is probably part of why it's left unmarked.


Left Side
The right side is pretty boring, sporting the power button (which is thankfully marked) about 2/3rds up the side of the device. Location of the power button is perfect for your thumb when held in the right hand, or index finger when held in the left hand.


Right Side
Things are interesting up top. There's the standard 1/8", 3.5 mm audio jack for headphones, a "Digital by Qualcomm" sticker, and the microUSB cover hiding the port underneath. The cover itself slides back and forth and has two detents that hold the cover open or closed. There's a groove you can get your nail into to slide the mechanism.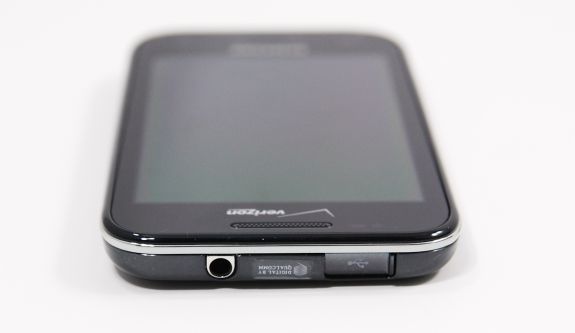 Putting the microUSB port on the top may seem like a strange choice - something I even pointed out in the Nokia N900 review - but it makes some sense. For one, it gets the cable out of the way when you're using the device while charging. Second, it also means you can dump the phone right side up into a cupholder in the car while on the go. For me at least, having the charger somewhere other than the side makes using the device while charging or taking screenshots a heck of a lot less of a balancing act.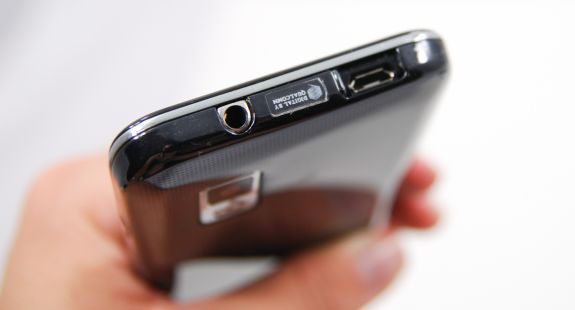 It's a choice that will probably seem very strange to people at first, but definitely doesn't impede using the Fascinate plugged in.
The Fascinate's hardware for me is ultimately a mixed bag. I love the fact that it's thin and light, but it feels so insubstantial in my hands that sometimes I forget it's a tier-1 smartphone. That isn't to say that the Fascinate feels cheap or has bad build quality - it doesn't - it just doesn't really inspire gobs of confidence the first time you pick it up. There's no rattling when the Fascinate vibrates, something I find indicative of build quality, and there's no doubt about the rigidity of the structure. It just has a weird feel in an open palm.
I really like that the Fascinate is thin and lightweight - I just don't like that the back feels the way it does.
The most obvious physical comparisons to the Fascinate's 4" form factor are the Droid X and the EVO 4G. I don't have the Droid X anymore and thus couldn't grab a shot, but I do have Anand's EVO 4G. The two are almost the same size wise, with the Droid X being just a few millimeters taller. I tossed in the iPhone 4 for good measure: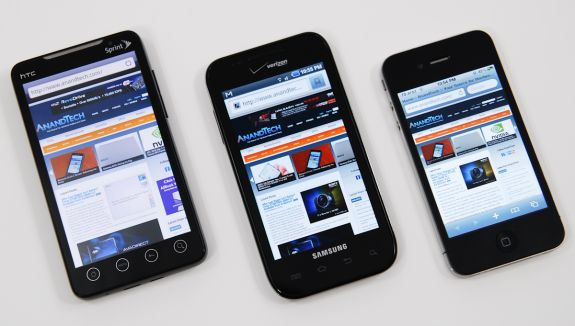 125 mm (4.92")
Physical Comparison
Apple iPhone 4
HTC EVO 4G
Motorola Droid X
Motorola Droid 2
Samsung Galaxy S Fascinate
Height
115.2 mm (4.5")
121.9 mm (4.8")
127.5 mm (5.02")
116.3 mm (4.6")
125 mm (4.92")
Width
58.6 mm (2.31")
66.0 mm (2.6")
66.5 mm (2.62")
60.5 mm (2.4")
63.5 mm (2.5")
Depth
9.3 mm ( 0.37")
12.7 mm (0.5")
9.9 mm (0.39")
13.7 mm (0.54")
9.91 mm (0.39")
Weight
137 g (4.8 oz)
170 g (6.0 oz)
155 g (5.47 oz)
169 g (5.9 oz)
117 grams (4.16 oz)
CPU
Apple A4 @ ~800MHz
Qualcomm Scorpion @ 1GHz
TI OMAP 3630 @ 1GHz
Texas Instruments OMAP 3630 @ 1 GHz
1 GHz Samsung Hummingbird
GPU
PowerVR SGX 535
Adreno 200
PowerVR SGX 530
PowerVR SGX 530
PowerVR SGX 540
RAM
512MB LPDDR1 (?)
512MB LPDDR1
512MB LPDDR1
512 MB LPDDR1
512 MB LPDDR1
NAND
16GB or 32GB integrated
8GB micro SD
8GB micro SD
8 GB integrated, preinstalled 8 GB microSD
2 GB, 16 GB microSD (Class 2)
Camera
5MP with LED Flash + Front Facing Camera
8MP with dual LED Flash + Front Facing Camera
8MP with dual LED Flash
5 MP with dual LED flash and autofocus
5 MP with auto focus and LED flash
Screen
3.5" 640 x 960 LED backlit LCD
4.3" 480 x 800
4.3" 480 x 854
3.7" 854 x 480
Super AMOLED 800 x 480
Battery
Integrated 5.254Whr
Removable 5.5Whr
Removable 5.698 Whr
Removable 5.2 Whr
Removable 5.55 Whr
Product packaging is an increasingly important aspect of smartphone presentation. Where the Motorola Droids thus far have been packaged in small and relatively basic boxes for optimal packing density, the Fascinate has more lavish, larger packaging. Inside the box you get phone on top, then below it are manuals, power adapter, and USB cables. Pretty standard fare, but still nicer than I've seen other packaging.