Special attention to the camera installation process is apparent in Compro's literature and software. Installation was very easy. At first glance, the installation process appeared quite long, having over 9 steps in all. However the reason for so many steps was because Compro assumed that the end-user would know nothing about networking.
The first step in the installation process even includes three videos; one for Wired Router setup, one for Wired Switch Setup, and one for Wireless setup. The videos walked the user through connecting the devices together with networking cables. They are set to very soothing music and also quite simplistic, once again taking the approach that the end user knows nothing about networking.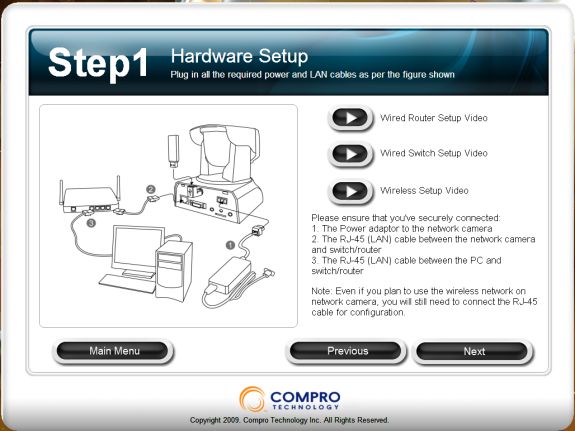 The next few steps find the camera on the network, allowing the user to setup a username and password to access the device and set the date and time using manual, NTP or computer synchronization methods. The user is allowed to either set manual IP address and port details or rely on the automatic settings selected by default. The orientation of the device is chosen next and this is useful if you have the device ceiling mounted.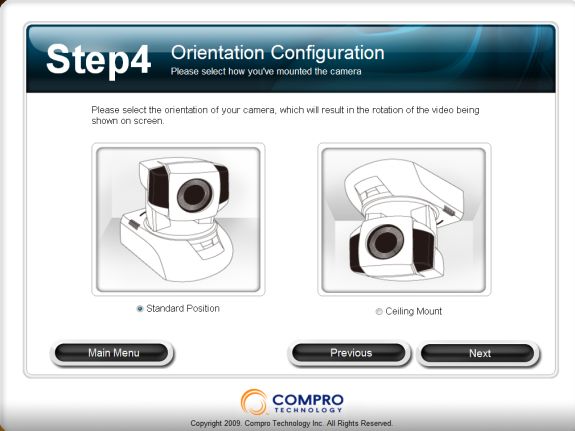 Compro also includes a dynamic IP service configuration page in the setup process. This lets the user actually search for available iDDNS.org addresses that can be used to access the camera over the internet.
The final step lets you install ComproView, a Compro-developed security system software suite that we will cover elsewhere in the review.
The videos and the installation process were quite simple, and almost refreshing since they did not take any shortcuts and showed even something as simple as how to plug in not only the camera, but also the router and the PC. This seems quite rare as manufactuers sometimes tend to gloss over the basics because they seem so obvious and simplistic.
Overall the setup process was very good; however it was not without its flaws. I had a problem with the ComproView software which upon the first time running asks for a username and password combination. I automatically assumed that the username and password were the ones that I had just barely configured during the setup process. This was not the case. After retyping and opening and closing the ComproView program several times, I read in the paper manual that the default username/password combination for the ComproView Software was [admin:admin]. This was mildly confusing and could be improved upon in later builds of the ComproView Software.