Visual Inspection
The ASRock B550 Taichi is as ornate as any model from its Taichi series, with an elegant bronze and black color theme throughout. The rear panel cover includes separate RGB areas for the Taichi logo and where the model and is primarily gold in color, as well as the power delivery heatsink. While not a conventional color, the lower portion of the board has black and bronze PCIe armor with a lightly embossed Taichi cogwheel inspired patterning. This cogwheel patterning stretches to the chipset heatsink, with a very classy finish and also includes some RGB LEDs. On the underside of the right-hand section of the board is a long RGB LED strip that provides a nice under glow.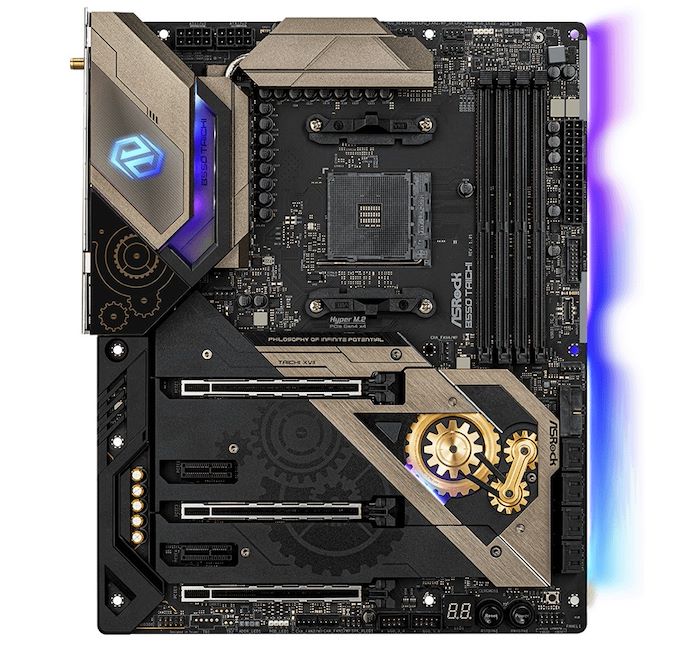 Looking to the boards PCIe, and the top two full-length slots operates at PCIe 4.0 driven directly from a Ryzen 3000 series processor. When the top slot is the sole one active, it runs in x16 mode, however if both are populated, it splits into x8/x8. The other full-length slot operates at PCIe 3.0 x4, and sandwiched in between the full-length slots are two PCIe 3.0 x1 slots. There are a pair of M.2 heatsinks which fit nicely into the board's bronze and black aesthetic - the first one is a top-mounted PCIe 4.0 x4 M.2 slot, while the bottom M.2 slot operates at PCIe 3.0 x4.
Along the bottom of the B550 Taichi is a basic overclockers toolkit which includes a two-digit LED Debugger, a power button, a reset button, and a small clear CMOS button. Located around the board are seven 4-pin headers which are split into three different cooling segments, one for a CPU fan, one for an optional CPU fan and a water pump, and five for regular chassis fans.

The B550 Taichi also has eight SATA ports, which is the only current B550 model to include this, with four of the eight controlled by the chipset and the other four made available from the use of an ASMedia ASM1061 SATA controller. The four SATA ports controlled by the chipset support RAID 0, 1, and 10 arrays.

Located at the top right-hand corner are four memory slots which include support for up to DDR4-5000 memory, while a total of 128 GB can be installed with official support for 32 GB UDIMM memory. The B550 Taichi does include support for ECC and non-ECC memory, although users opting for ECC memory should note that it will operate un-buffered modules.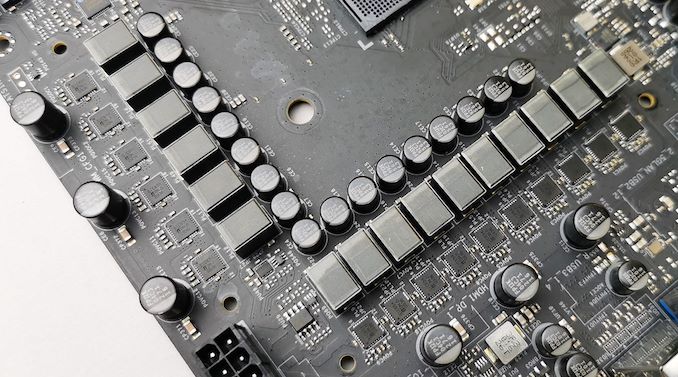 The power delivery on the ASRock B550 Taichi is made up of a 16-phase design with fourteen phases for the CPU, and two for the SoC. ASRock has opted to use sixteen Vishay SiC654 50 A DrMos power stages which makes up both the CPU and SoC sections. The PWM controller of choice is an Intersil ISL229004 which is an 8-channel controller which means the power delivery is operating in a 7+1 configuration. The B550 Taichi's doubler of choice is the Intersil ISL6617A with seven doubling up the fourteen CPU power stages and one doubling up the two SoC phases. Providing power to the power delivery is a pair of 12 V ATX CPU power inputs.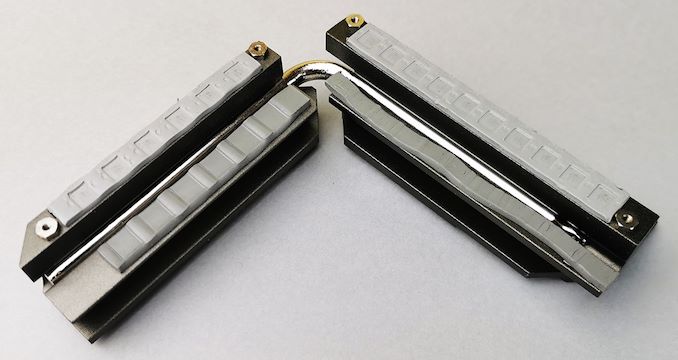 Cooling the large 16-phase power delivery is a pair of bronze-colored aluminum heatsinks which are interconnected by a single heat pipe. On both of the heatsinks is a relatively thick thermal pad with fairly deep impressions which shows a good mounting between the power delivery and the heatsinks.

For audio, the ASRock B550 Taichi is using a Realtek ALC1220 HD audio codec with five Japanese Nichicon gold audio capacitors which are specifically designed for audio solutions such as this. To improve the quality of the front panel audio header, ASRock has included a Texas Instruments NE5532 headset amplifier which can drive headphones and headsets up to 600 Ohm. The audio PCB itself includes a faint yellow separation line from the rest of the board to help protect the audio componentry from electronic magnetic interference, although the ALC1220 HD codec does not include a separate dedicated EMI shield.

On the rear panel I/O is a variety of input and output with a single USB 3.2 G2 Type-C, one USB 3.2 G2 Type-A, four USB 3.2 G1 Type-A, and two USB 2.0 port, with all of the rear panel USB coming with ESD protection. The board's networking consists of a single Intel I225-V 2.5 GbE Ethernet controller which powers the single RJ45 port, while the two antenna ports are for the Intel AX201 Wi-Fi 6 interface which includes support for BT 5.1 devices. Onboard audio is provided by the way of five 3.5 mm audio jacks and a single S/PDIF optical output powered by a Realtek ALC1220HD audio codec. Finishing off the rear panel is a clear CMOS button, and a BIOS flashback button which can be used to update the board's firmware without a CPU/memory/display installed.
Also present on the rear panel is a pair of video outputs that consist of an HDMI and DisplayPort 1.4 output. This allows users to use integrated graphics when AMD puts the next-generation APUs on retail shelves.
What's in the Box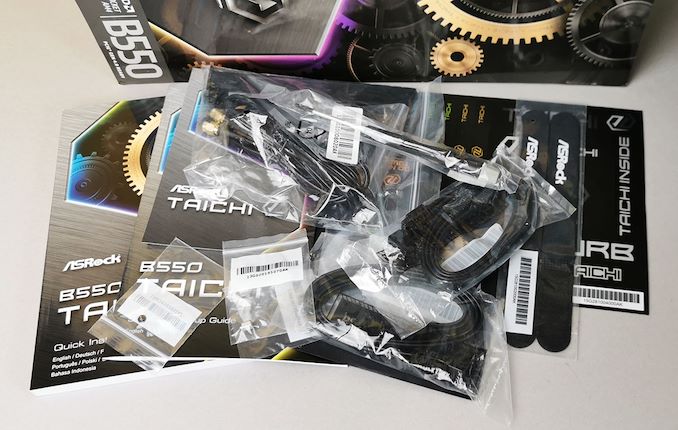 Included within the ASRock B550 Taichi accessories bundle are four SATA cables, an Intel AX201 Wi-Fi 6 antenna kit, an ASRock branded Torx screwdriver, and two M.2 installation screw kits. Other accessories include a quick installation guide and a driver/software installation disc.
Quick installation guide
Driver and software installation disc
ASRock Torx screwdriver
4 x SATA cables
2 x M.2 screws
2 x M.2 standoffs
ASRock Taichi postcard
2 x ASRock velcro cable ties
ASRock Taichi sticker set