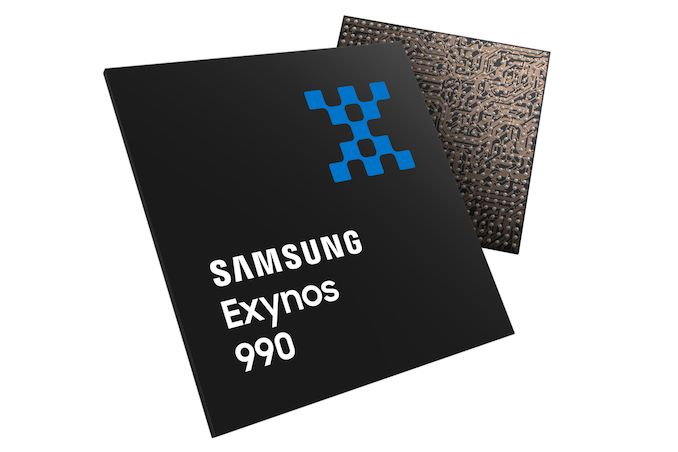 Today Samsung unexpectedly announced the brand new Exynos 990 chipset – likely to be Samsung's flagship SoC for 2020, employing the newest IP and offering the newest features on the 7nm EUV manufacturing node. The chip closely follows the release of the Exynos 980 earlier in September, and both new silicon chips bring with them 5G connectivity alongside their new product naming scheme.
Samsung Exynos SoCs Specifications
SoC

Exynos 990

Exynos 9820 / 9825

CPU
2x Exynos M5 @ ? GHz
(+20% perf)

2x Cortex A76 @ ? GHz

4x Cortex A55 @ ? GHz
2x Exynos M4 @ 2.73 GHz
2x 512KB pL2
3 MB L3

2x Cortex A75 @ 2.31 / 2.4GHz
2x 256KB pL2

4x Cortex A55 @ 1.95 GHz
No pL2's

1MB L3
GPU
Mali G77MP11 @ ? MHz
Mali G76MP12 @ 702 MHz
Memory
Controller
LPDDR5 @ 2750MHz
4x 16-bit CH
LPDDR4X @ 2093MHz

2MB System Cache
ISP
Single: 108MP
Dual: 24.8MP+24.8MP
Rear: 22MP
Front: 22MP
Dual: 16MP+16MP
NPU
Dual NPU + DSP
>10 TOPs
Dual NPU
1.86 TOPs
Media
8K30 & 4K120 encode & decode
H.265/HEVC, H.264, VP9
8K30 & 4K150 encode & decode
H.265/HEVC, H.264, VP9
Modem
Exynos Modem External

(LTE Category 24/22)
DL = 3000 Mbps
8x20MHz CA, 1024-QAM
UL = 422 Mbps
?x20MHz CA, 256-QAM

(5G NR Sub-6)
DL = 5100 Mbps

(5G NR mmWave)
DL = 7350 Mbps
Exynos Modem Integrated

(LTE Category 20/20)
DL = 2000 Mbps
8x20MHz CA, 256-QAM
UL = 316 Mbps
3x20MHz CA, 256-QAM
Mfc. Process
Samsung
7nm LPP (EUV)
Samsung
8nm LPP / 7nm LPP (EUV)
Starting off with the new CPU complex, Samsung seemingly is continuing with their custom CPU designs for this generation, and we're seeing the deployment of the new Exynos M5 microarchitecture. Samsung quotes that the new design is 20% faster than the Exynos M4 in the 9820 – a bit of a conservative figure given the larger process node improvement. The new CPU will have to compete against the next generation Snapdragon flagship which most likely will come with Cortex-A77 derived cores which promises 23-30% IPC increases – unless that chip comes with clock degradations, the new M5 will have a hard time competing.
Samsung has upgraded the middle core from the Cortex A75 in the previous generation a newer Cortex A76 design, which should provide a more significant performance uplift in every-day workloads. Finally, we continue to see Cortex A55 cores as the little efficiency cores. Samsung doesn't disclose the clock frequencies of any of the CPU clusters, but advertises that the overall improvement of the new tri-cluster is 13%.
The Exynos 990 sees a big GPU upgrade in the form of the new Mali-G77 in an MP11 configuration. The new Valhall architecture promises to be a very large performance jump for Arm's GPU IP, and it looks like the new Exynos will be amongst the first chipsets to employ the new GPU family. Samsung press release claims we'll see performance uplifts of up to 20%, or power efficiency gains of up to 20%. The increase seems quite meagre given the process improvement as well as the new GPU architecture, it seems very unlikely Samsung will be able to catch up to Apple's newest chipsets – and Qualcomm is expected to have a big generational jump as well.
One fundamental change that the Exynos 990 brings with itself is the transition from LPDDR4X memory to LPDDR5 memory. This allows the new chipset to increase the memory controller frequency from 2093 MHz to 2750MHz and we're also expecting the new DRAM technology to bring power efficiency gains to the table.
Samsung discloses that the chip comes with a dual-core NPU and a new DSP which can perform over 10 TOPs in computational throughput – it's not exactly clear here if Samsung is referring to the DSP's capability or the combined capabilities of the NPU and DSP. The Exynos 9820's NPU had a throughput of 1.86TOPs.
Finally, what's odd here is the chip's connectivity capabilities: Samsung doesn't list the Exynos 990 as having modem capabilities which might point out that we're maybe looking at a pure application processor this generation. Instead of an integrated modem, Samsung is advertising the new Exynos Modem 5123 as a new discrete chipset: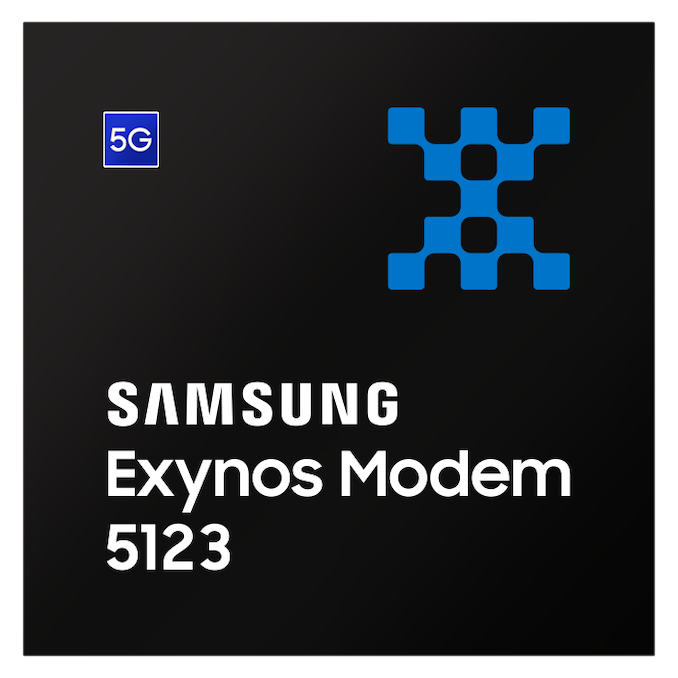 The new modem iterates on the Exynos Modem 5100 used this year: It's still a complete multi-band solution supporting everything from 2G to 5G sub-6 as well as mmWave, however Samsung has massively upgraded the new chip's maximum throughput. In regular 4G LTE, the new chip now supports downlink speeds of up to 3Gbps while offering 422Mbps upload. In 5G sub-6, we're seeing 5.1Gbps downloads, and 7.35Gbps in mmWave networks. The chip's speeds are enabled by up to 8x carrier aggregation and a new higher-order 1024 QAM, which is as far as we know, the first modem to be announced with such capabilities.
Samsung's choice of going with a discrete 5G modem this generation seems to be related to the economics of the new silicon: The new 5G modems are still quite large in die size, although the Exynos Modem 5100 was amongst the smallest at 56.03mm². Still, both the new modem as well as the Exynos 990 are manufactured on Samsung's 7nm EUV node, and separating the two into discrete chips likely makes sense at this point in time in order to offer more flexibility and to increase manufacturing yield.
One question which remains open, is whether Samsung will be opting to pair the Exynos 990 with a different modem than the 5123. Still, it's unlikely that we'll see any pairing with a 4G modem, meaning all Exynos flagship devices next year will have 5G support.
Samsung says we'll see the Exynos 990 in mass production by the end of the year, and we're likely have the Galaxy S11 being powered by the new piece.
Related Reading: