Meet The EVGA GeForce GTX 1660 Super SC Ultra
Since this latest GTX 1660 series card launch is a virtual launch like the others, NVIDIA is once again sampling partner cards to the press. For the GTX 1660 Super launch, we received EVGA's GeForce GTX 1660 SC Ultra, a relatively straightforward dual slot, dual fan card.
GeForce GTX 1660 Super Card Comparison
GTX 1660 Super
(Reference Specification)
EVGA GTX 1660 Super SC Ultra
Base Clock
1530MHz
1530MHz
Boost Clock
1785MHz
1830MHz
Memory Clock
14Gbps GDDR6
14Gbps GDDR6
VRAM
6GB
6GB
TDP
125W
125W
Length
N/A
8"
Width
N/A
2-Slot
Cooler Type
N/A
Open Air, Dual Fan
Price
$229
$229
The EVGA GeForce GTX 1660 SC Ultra – or for the sake of brevity in this article, the EVGA SC Ultra – is pretty typical of dual fan cards for this price range and performance class. At just under 8-inches long, the card isn't particular massive, and is just big enough to fit a pair of 90mm fans.
EVGA typically offers both reference clock (Black) and factory overclocked versions of their GTX 1660 SC cards, and the model we're looking at is the latter, sporting an official boost clock of 1830MHz, 45MHz higher than the reference GTX 1660 Super specifications. Notably, the card's base clock remains unchanged at 1530MHz, but since the card is turboing all the time anyhow, it's the boost clock tells us what we need to know. By the numbers then, EVGA's SC Ultra has a 2.5% GPU clockspeed advantage over reference cards, so it will perform just a bit better (and further close the gap with the GTX 1660 Ti), but not significantly so with such a mild factory overclock.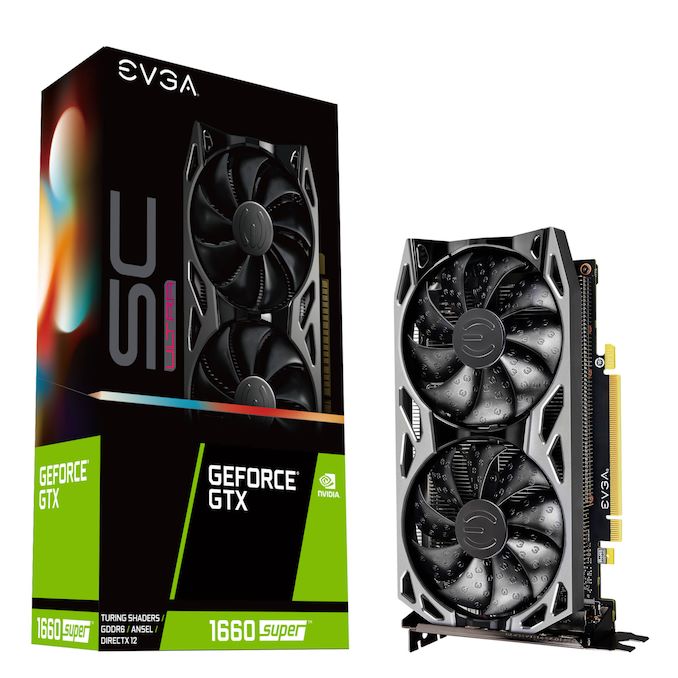 Meanwhile, it's worth pointing out that while EVGA has cranked up the GPU clockspeed a bit, it doesn't appear they've deviated from NVIDIA's reference TDP this time. So unlike their reference clocked but TDP increased XC cards that we looked at earlier this year, the SC Ultra doesn't have any more power headroom to play with than reference cards. Thankfully for EVGA the GTX 1660 series cards haven't been terribly TDP-constrained to begin with – we regularly beat NVIDIA's official boost clocks – but it does mean that the card is riding on the fact that it's clocked higher at any given voltage, which is essentially an efficiency play.
Digging down further, the SC Ultra is equipped with a fairly typical aluminum heatsink with vertical fins, and a pair of heatpipes running through it. The heatpipes are connected to the TU116 GPU via a copper (or copper-plated) baseplate, with the heatpipes and baseplate transferring heat into the heatsink proper. EVGA is also providing direct cooling for the 6 GDDR6 chips surrounding the GPU, using thermal pads to connect them to the heatsink.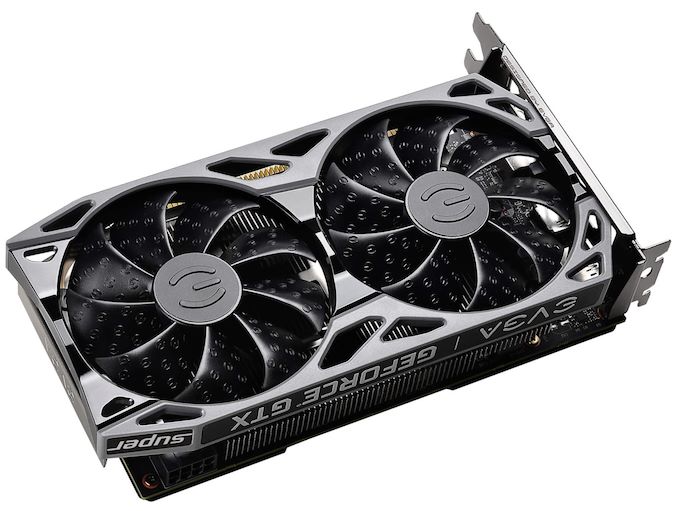 Speaking of cooling, unlike their XC cards that we've looked at earlier this year, for their SC cards EVGA has implemented zero fan speed idle functionality, so the card's fans will cut off when the card is idling at a low temperature. This is an increasingly common and always appreciated feature for video cards, as it allows cards to be effectively silent at idle or under light workloads.
Elsewhere, on the back of the card we find an EVGA backplate. It's still uncommon to see backplates among non-premium midrange cards like this, so EVGA is in fairly rare company. In the case of the SC Ultra however, it's also necessary, as the heatsink is only mounted to the PCB directly around the GPU, so the backplate is needed to keep the card and its PCB from flexing.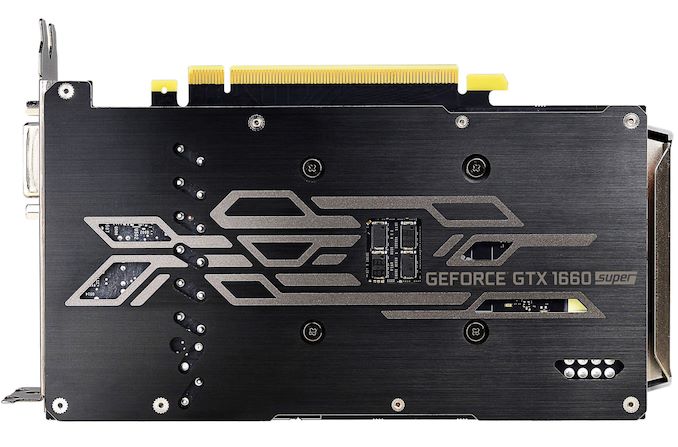 For power, the card relies on an 8-pin external PCIe power cable, as well as PCIe slot power. From a practical perspective this is overkill for a card that only has a 125W TDP – a 6 pin connector should work just fine here – but it's consistent with NVIDIA's requirements for their other GTX 1660 cards.

Finally for hardware features, for display I/O we're looking at EVGA's usual GTX 1660 setup of a DisplayPort, an HDMI port, and a DL-DVI-D port. While DVI ports have long been banished from high-end cards, they still sometimes show up on midrange cards so that they can be directly used with DL-DVI monitors that are still out in the world. The tradeoff, as always, is that the DVI port is taking up space that could otherwise be filed by more DisplayPorts, so you're only going to be able to drive up to two modern monitors with the SC Ultra.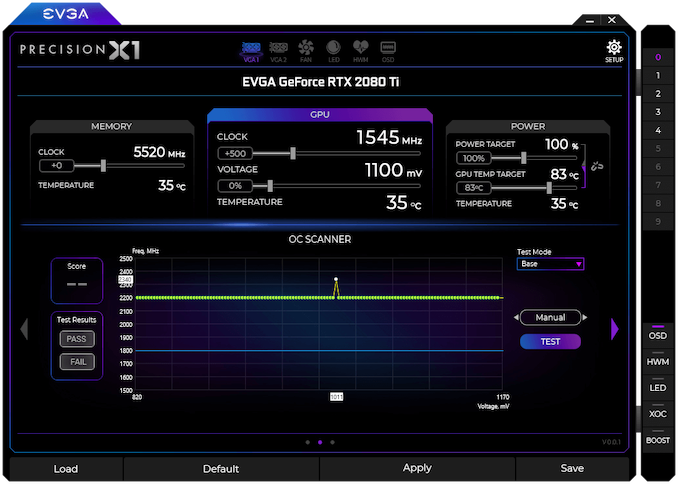 As for software, EVGA of course includes their latest EVGA Precision X1 software. Among its many features, Precision X1 allows modifying the voltage-frequency curve and scanning for auto-overclocking as part of Turing's GPU Boost 4. Of course, NVIDIA's restriction of actual overvolting is still in place, and for Turing there is a cap at 1.068v. As far as overclocking software goes, EVGA's software remains one of the best NVIDIA overclocking tools on the market, and it's little surprise that when NVIDIA wants to show off new overclocking features, they frequently turn to EVGA to deliver the necessary software.
Finally, on a quick housekeeping note, I should point out that for today's review we're actually on our second SC Ultra. While the original card sampled by NVIDIA worked just fine for testing from a performance perspective, under sustained loads it got hotter and louder than any 125W card should. EVGA has since swapped it out for a second card, which dialed back the temperatures by several degrees, as well as a few decibels of noise. While it's still not a quiet card – as we'll see in the power/temperature/noise section of the review, our second sample was a lot more reasonable and is what we'd expect to see for a mid-TDP dual fan card.