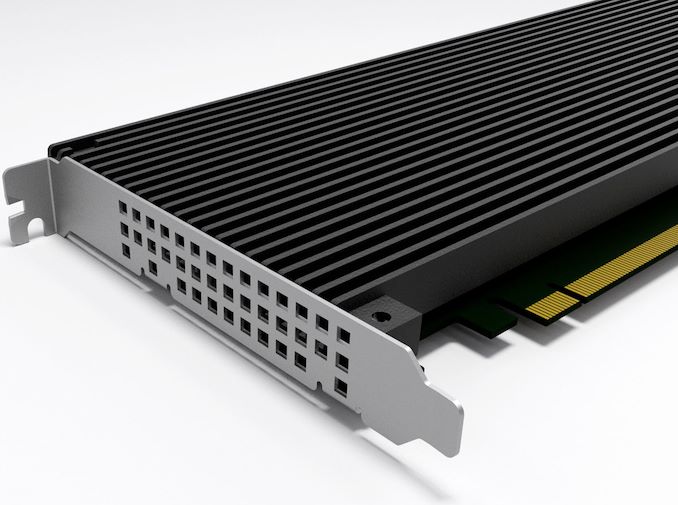 Liqid, a maker of SSDs for mission critical and performance-hungry applications, plans to demonstrate one of the world's first PCIe 4.0 x16 solid-state drives at Flash Memory Summit next week. The Element LQD4500 SSD is designed to offer superior sequential and random performance along with an enterprise-grade feature set and reliability. Making this all the more noteworthy is that the drive is based on consumer-grade components.
The Liqid Element LQD4500 SSD is based on multiple Phison PS5016-E16 controllers (with a PCIe 4.0 x4 interface) featuring a custom firmware and carries up to 32 TB of raw 3D TLC NAND flash. Liqid is presumably doing on-card NVMe RAID here, similar to what we've seen in some PCIe 3.0 x16 cards in the last couple of years. Being aimed at datacenters or enterprises, the Element LQD4500 supports power loss data protection and features numerous proprietary technologies from Liqid, including active telemetry monitoring, advanced error recovery, and active thermal throttling.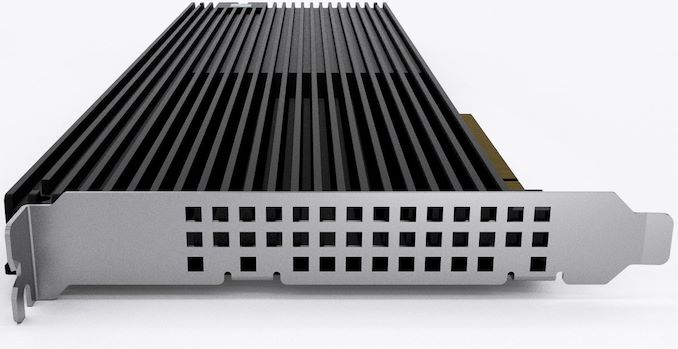 The fastest Liqid Element LQD4500 SSDs will offer up to 24 GB/s sequential read and write speeds as well as up to 4 million read and write IOPS (sustained random writes are rated at 600K IOPS). Such drives will also offer an ~80 μs read access latency as well as a ~20 μs write latency.
The drive comes in a full-height full-length (FHFL) add-in-card (AIC) form-factor with a one-wide passive cooling system, and is therefore compatible with large systems that need extreme performance and can provide a minimum of 400 LFM of air flow, as the card consumes and dissipates up to 65 W of power. Depending on customer requirements, the drive can be configured for different capacities, performance, and endurance levels.
General Specifications of the Liqid Element LQD4500 SSD
Data Center Drives
Enterprise Drives
SKUs
7.68 TB: LQD-E2DPNBD08M007T68
15.36 TB: LQD-E2DPNBD08M015T36
30.72 TB: LQD-E2DPNBD08M030T72
6.40 TB: LQD-E2DPNBD08M006T40
12.80 TB: LQD-E2DPNBD08M012T80
25.60 TB: LQD-E2DPNBD08M025T60
Controller
8x Phison PS5016-E16
NAND Flash
3D TLC NAND
Form-Factor, Interface
Full-height full-length (FHFL) add-in-card (AIC)
PCIe 4.0 x16, NVMe 1.3
Sequential Read
up to 24 GB/s
Sequential Write
up to 24 GB/s
Random Read IOPS
up to 4M IOPS
Random Write IOPS
up to 4M IOPS
Sustained Random Write IOPS
600K IOPS
Pseudo-SLC Caching
?
DRAM Buffer
Yes, capacity unknown
AES Data Encryption
Yes
Power Consumption
up to 65 W
Warranty
3 years
Compatibility
Windows, Windows Server 2012, 2012 R2 RHEL; SLES; CentOS, Solaris, SUSE, VMware
TBW
up to 61.53 PBW
Additional Information
Link
MSRP
?
?
The Liqid Element LQD4500 SSD will be demonstrated at FMS by Phison, which happens to be an investor of Liqid. There is no word regarding availability or pricing of these drives, but given their performance and capabilities, we're not expecting this card to come cheap.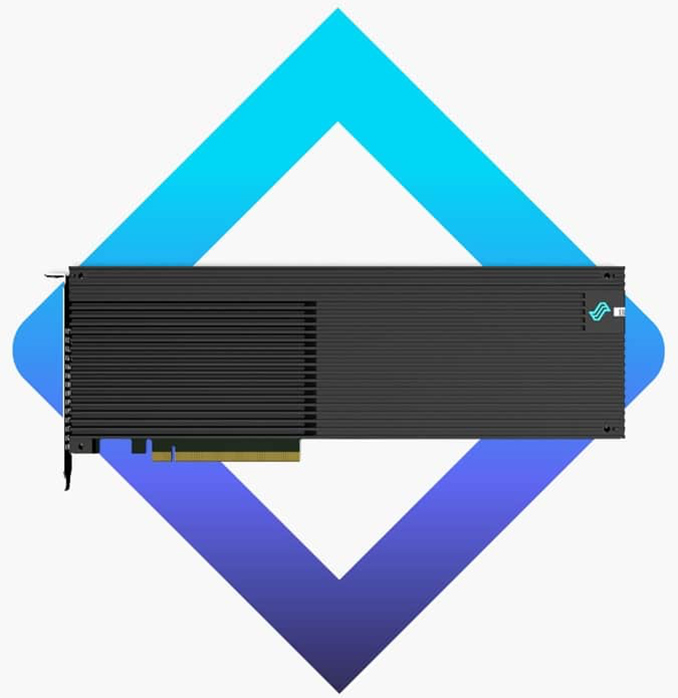 Related Reading:
Sources: Liqid, Phison