BIOS
The ASRock Rack EPYCD8-2T is using a very basic version of American Megatrends Aptio firmware. It has a basic GUI which is designed more towards professional use as opposed to consumer use. The GUI is using basic grey background with blue highlights at the top, with grey text and white highlighting. While we have seen this firmware before used on other professional models from other brands, this ASRock board does include hot keying for taking screenshots which can be done by pressing the F12 key.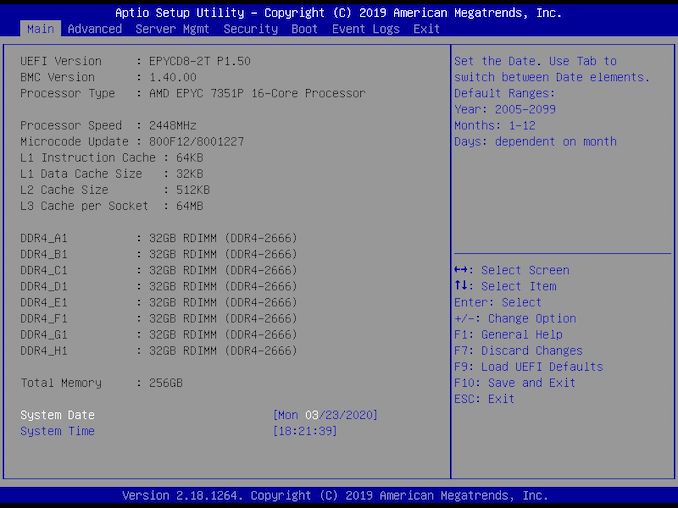 On the main screen, users can find a list of core hardware installed including basic information including the processor model number, L1, L2 and L3 cache information, including information on the memory installed. Users looking for power control functions will find them in the advanced section, including C-State, PCIe, and options for enabling and disabling AMD's Core Performance Boost technology. The server management section allows users to made customizations to the Aspeed AST2500 BMC controller. This includes options to set a custom Static IP for users to log into the boards IPMI function remotely across a network.
The firmware on the ASRock Rack EPYCD8-2T caters to professional users without fanfare. It's designed to be efficient, stable, and drops the flashy GUI of consumer boards to focus more on functionality.
Software
Although the ASRock EPYCD8-2T doesn't 'technically' include a software bundle, it does include an Aspeed AST2500 BMC and Realtek RTL8211E Gigabit Ethernet controller. The AST2500 allows users to access the system physically without a graphics card through the D-sub, or through a network with a dynamic or static IP address which can be set within the board's firmware.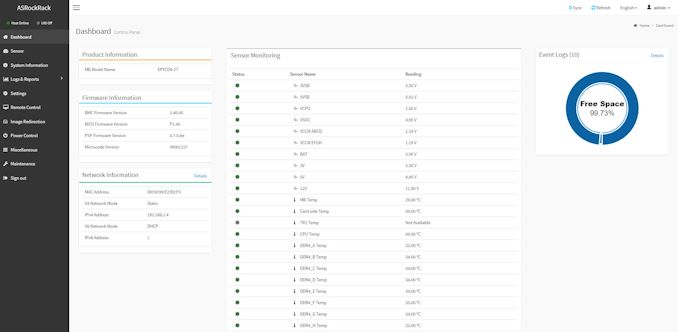 The ASRock Rack intelligent platform management interface (IPMI) is one of the better examples with a fluid control panel with access to many different functions. The main IPMI dashboard shows information from the integrated sensors which range from CPU temperature, CPU and system voltage readings, as well as individual readouts from each of the memory slots. Also on display is how much free space is available on the system including access to event logs, system maintenance including updating the board's firmware through the KVM viewer. ASRock Rack has two versions of its KVM viewer which include HTML5 and Java. Users can also control power elements including forcing shutdowns, reboots and start up the system remotely.
Users looking to download up-to-date drivers will need to from the official product page on the ASRock website, as the board doesn't include a physical disk in the accessories bundle. The ASRock Rack IPMI can be accessed remotely, or directly on the network, with the BMC shown clearly during system POST. It has an intuitive IPMI control panel with plenty of functionality for professional users.