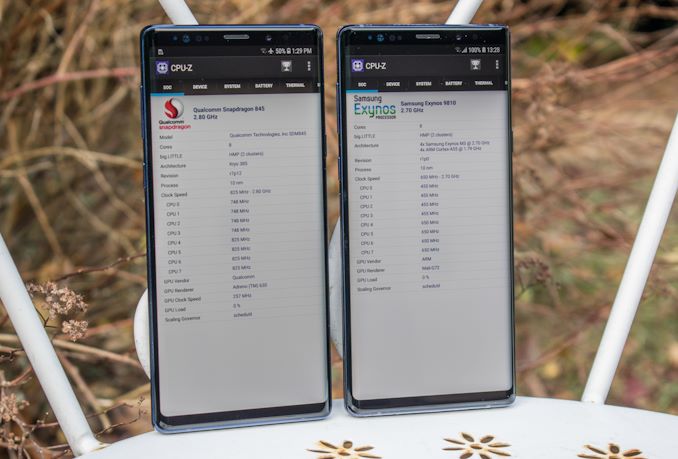 The Note9's been has been out for several months now, but unfortunately we never really did get to reviewing the phone. A big question from a lot of our community members that kept coming up is whether we'd redo testing of the Snapdragon vs Exynos models of the Note9, and see if there would be any major differences between these phones and the results we got earlier in the year on the Galaxy S9s.
While it took a while, I've finally got my hands on both variants of the Note9, and we can finally deliver on the results of our testing. This piece isn't a full review of the phone itself; here there's really no doubt about Samsung's overall quality of the phone as the Note9 continues the excellent results of the Galaxy S9 in categories such as design, build quality, display as well cameras. For camera results I'll refer to my more recent device articles such as the Pixel 3 or Mate 20s review where the Note9 is included.
Samsung Galaxy Note Family
Samsung Galaxy Note 8
Samsung Galaxy Note 9
SoC
(US, China, Japan)
Qualcomm Snapdragon 835
4x Kryo 280 (CA73) @ 2.35GHz
4x Kryo 280 (CA53) @ 1.90GHz
Adreno 540 @ 670MHz
(Americas, China, Japan)
Qualcomm Snapdragon 845
4x Kryo 385 (CA75) @ 2.8GHz
4x Kryo 385 (CA55) @ 1.77GHz
Adreno 630 @ 710MHz
(Rest of World)
Samsung Exynos 8895
4x Exynos M2 @ 2.30GHz
4x Cortex-A53 @ 1.70GHz
ARM Mali-G71MP20 @ 546MHz
(Rest of World)
Samsung Exynos 9810
4x Exynos M3 @ 1.8-2.7GHz
4x Cortex-A53 @ 1.76GHz
ARM Mali-G72MP18 @ 572MHz
Display
6.3-inch 2960x1440 (18.5:9)
SAMOLED (curved edges)
6.4-inch 2960x1440 (18.5:9)
SAMOLED (curved edges)
Dimensions
162.5 x 74.8 x 8.6 mm
195g
161.9 x 76.4 x 8.8 mm
201g
RAM
6GB LPDDR4X
6GB / 8GB LPDDR4X
NAND
64GB / 128GB (UFS)
+ microSD
128GB / 512GB (UFS)
+ microSD
Battery
3300mAh (12.7Wh)
non-replaceable
4000mAh (15.4Wh)
non-replaceable
Front Camera
8MP, f/1.7
8MP, f/1.7
Rear Cameras
12MP, 1.4µm pixels,
f/1.7,
dual-pixel PDAF, OIS
12MP, 1.4µm pixels,
f/1.5 / f/2.4 adaptive aperture,
dual-pixel PDAF, OIS
2x zoom telephoto
12MP, f/2.4, OIS
2x zoom telephoto
12MP, f/2.4, OIS
Modem
Snapdragon X16 LTE (Integrated)
2G / 3G / 4G LTE (Category 16/13)
Snapdragon X20 LTE (Integrated)
2G / 3G / 4G LTE (Category 18/13)
Samsung LTE (Integrated)
2G / 3G / 4G LTE (Category 16/13)
Samsung LTE (Integrated)
2G / 3G / 4G LTE (Category 18/13)
SIM Size
NanoSIM
Wireless
802.11a/b/g/n/ac 2x2 MU-MIMO,
BT 5.0 LE, NFC, GPS/Glonass/Galileo/BDS
Connectivity
USB Type-C, 3.5mm headset
Features
fingerprint sensor, heart-rate sensor, iris scanner, face unlock, fast charging (Qualcomm QC 2.0, Adaptive Fast Charging, USB PD),
wireless charging (WPC & PMA), IP68, Mobile HDR Premium
Launch OS
Android 7.1.1 Samsung Experience
Android 8.1 Samsung Experience
We've covered the key aspects of the Note9 in our release article. This year, the two most notable features of the Note9 are the inclusion of a new bigger battery, coming in at 4000mAh as well as an increased maximum storage capacity of 512GB.
The new S-Pen also has gained wireless connectivity which allows it to control various configurable features on the phone. The new feature means that the S-Pen is no longer a passive component, but rather a powered one. Samsung implemented this in a very interesting way: the S-Pen now draws its power from a capacitor instead of a regular battery. What this allows the phone to do is charge the new pen in seconds when docked into the device, rather than the more extended charging times that are required for lithium batteries.
I could go on about the specifications here, but really the point of this article and what the majority of readers are interested in are the differences in internal hardware:
As in the Galaxy S9s, the Note9 is again dual-sourcing the SoC from Qualcomm as well as S.LSI. This has been a big discussion topic for me this year with our coverage of the disappointing results of the Exynos 9810 variant of the Galaxy S9. While over the last few years we've been used to seeing differences between the SoC variants, they've never been as great as this generation. We've extensively explained as to why this happened in our review of the Galaxy S9 as well as follow-up articles centring on the 9810's software.
One big critique of the results back then was that I only had a smaller Exynos S9 versus the bigger Snapdragon S9+, somewhat blurring the differences to some people. Today's results Note9 results are on the same device model, so hopefully comparisons will be more straightforward.
Battery life – Improved at a cost
Before we get to the more detailed talk of what has actually changes for the Exynos in the Note9, let's just jump to the most critical results: battery life. On the Galaxy S9s, the Snapdragon variant was always consistently higher. Let's see how the Note9 fares: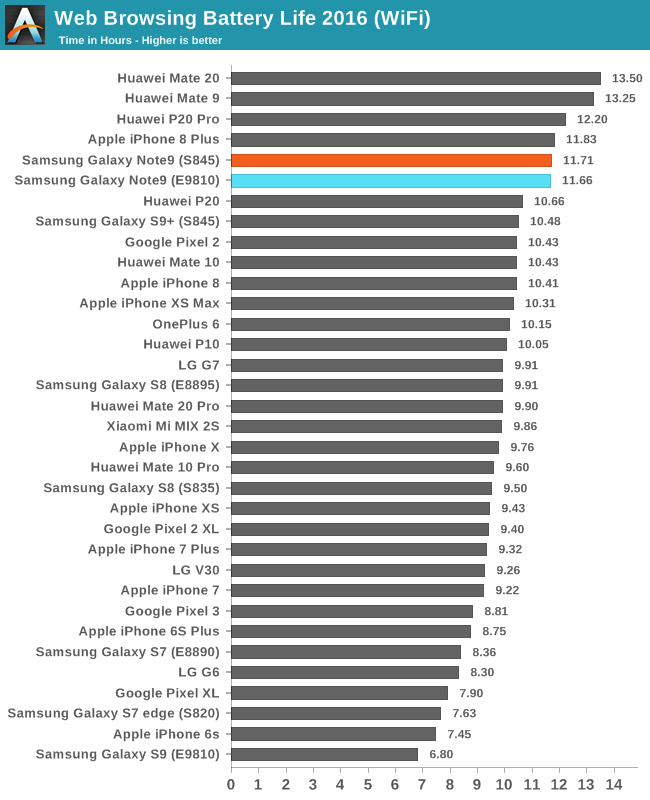 In our web browsing battery test, the Snapdragon and Exynos Note9 surprisingly end up within margins of each other. In absolute terms, both units showcase outstanding results just shy of 12 hours, only really being beaten by our more recent result of the Mate 20.
This is an excellent improvement over the results of the Exynos S9 back at release. In my piece altering the S9's kernel and scheduler, I showcased that performance as well as battery life could be improved just by altering the behaviour of the software. The one thing that made the greatest improvements in both aspects was the removal of the 2.7GHz boost of the big cores.
Over the summer following that article I had made some further improvements software wise, as well did some digging into the battery of the S9: For some reason, Exynos S9's are shipping exclusively with a battery model "EB-BG960ABE" while the Snapdragon variants all exclusively were shipping with "EB-BG960ABA" batteries. The two models come from different factories. There was one discrepancy that bothered me here: the fuel-gauge on the small Exynos S9's were consistently showing smaller nominal capacities than the Snapdragon S9's while both have the same charger and fuel gauge IC. I ended up ordering a fresh set of both battery models and replaced them in my S9 unit, and skipping over a lot of technical details about how the fuel-gauges work, the end result is that the ABA models do seem to have a 5% better longevity over the ABE models.
Overall I managed to raise the battery results of the S9 in our web test from 6.8h up to ~8.8h all while improving performance. The Exynos Note9's 11.66h here represents a 32% increase – something quite in line with the 4000mAh vs 3000mAh difference of the two phones, barring of course software differences and the fact that the Note9 has a much bigger screen.
Do keep these results in mind while we talk about performance on the next page.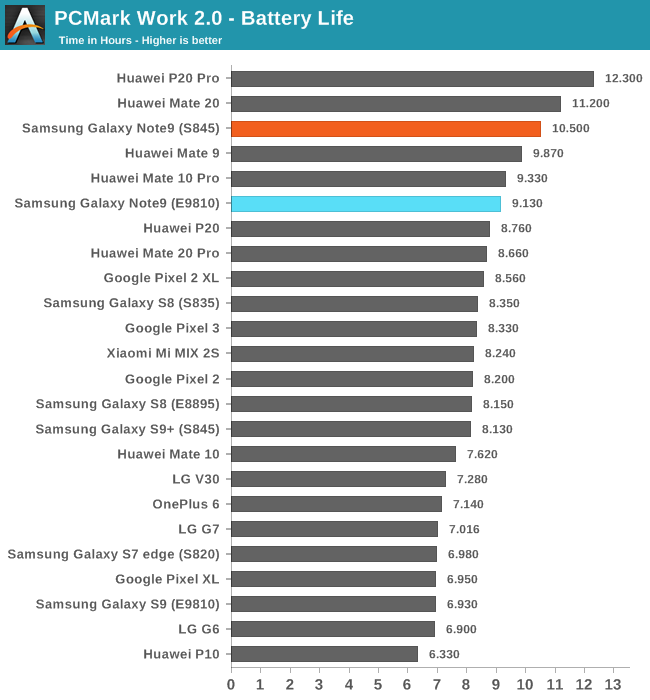 In PCMark, the Snapdragon Note 9 retains a notable lead in battery life, with the Exynos Note9 coming in at 15% behind it. Again the Exynos Note9 fares 32% better than the small Exynos S9 on stock firmware, in line with the battery capacity difference but not in line with the screen size differences of both devices.
At first glance, it seems that Samsung has largely resolved the battery differences between the Snadpragon 845 and Exynos 9810 units of the Note9. However as I've hinted at several times now, things aren't quite as straightforward as to what it cost to achieve this. Next up we'll investigate the system performance of both Note9s.