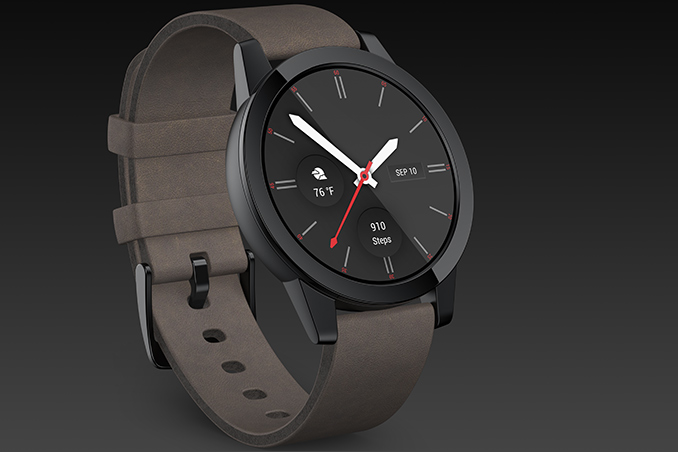 Qualcomm this week introduced its new platform designed for smartwatches based on Google's Wear OS. The long anticipated Snapdragon Wear 3100 packs four general-purpose processing cores as well a special co-processor for low-power operations designed to prolong battery life of upcoming wearables. Communication capabilities of the platform include GPS, Wi-Fi+Bluetooth, as well as 4G/LTE, which is in line with features supported by direct predecessor.
Qualcomm's Snapdragon Wear 3100 (MSM8909w) is the company's most powerful SoC for wearables that the company has released to date. Just like the Snapdragon Wear 2100 introduced in 2016, the new chip packs four ARM Cortex-A7 cores clocked at 1.2 GHz. Meanwhile, the latest SoC also integrates the company's QCC1110 co-processor designed specifically for tasks that do not require serious compute horsepower, such as sensor processing in new modes to be supported by the upcoming version of Wear OS. The co-processor also has a deep learning engine for custom workloads like detection of keywords.
Besides general-purpose cores and the co-processor, the SoC integrates Qualcomm's Adreno 304 GPU that supports resolutions up to 640x×480 at 60 Hz as well as a high-performance DSP. As for communication capabilities, the Snapdragon Wear 3100 platform can support Qualcomm's WCN3620 Wi-Fi/Bluetooth controller, Qualcomm's Snapdragon X5 4G/LTE modem, and GPS capabilities. Meanwhile, the company will offer three versions of the SW3100 targeting smartwatches with different comm features.
Qualcomm says that it works closely with developers of Google's Wear OS, so all the capabilities of the new Snapdragon Wear 3100 platform will be used by software eventually. In particular, the SW3100 will support three modes that will be a part of next-gen watches running the Wear OS, including the Enhanced Ambient Mode, Dedicated Sports Experiences, and Traditional Watch Mode. In all three cases the SW3100 will offload display and sensor processing from the Cortex-A7 and Adreno cores to the ultra-low-power co-processor, but will still be able to perform typical tasks for each mode (e.g., GPS and heart rate sensing for the sports mode).
Qualcomm Snapdragon Wear SoCs
Snapdragon Wear 1200
Snapdragon Wear 1100
Snapdragon Wear 2100
Snapdragon Wear 3100
SoC
Cortex-A7 @ 1.3GHz

Fixed-function GPU
Cortex-A7 @ 1.2GHz

Fixed-function GPU
4x Cortex-A7 @ 1.2GHz

Adreno 304
4x Cortex-A7 @ 1.2GHz

QCC1110 co-processor

Adreno 304
Process Node
28nm LP
28nm LP
28nm LP
?
RAM
LPDDR2
LPDDR2
LPDDR3-800 MT/s
LPDDR3 (?)
Display
Simple 2D UI
Simple 2D UI
Up to 640x480 @ 60fps
Modem
Qualcomm (Integrated)
2G (E-GPRS) / LTE
(Cat M1 & Cat NB1)
Qualcomm (Integrated)
2G / 3G / LTE (Category 1 10/5 Mbps)
Qualcomm X5 (Integrated)
2G / 3G / LTE (Category 4 150/50 Mbps)
Connected version only
Connectivity
802.11b/g/n/ac, BT 4.2 LE, GPS/GLONASS/Galileo/BeiDou
802.11b/g/n/ac, BT 4.1 LE, GPS/GLONASS/Galileo/BeiDou
(Wi-Fi and BT optional)
802.11b/g/n (2.4GHz),
BT 4.1 LE, NFC, GPS/GLONASS/Galileo/BeiDou, USB 2.0
Connected and Tethered versions
Qualcomm claims that the QCCC1110 co-processor, the PMW3100 power management sub-system, and other enhancements of the Snapdragon Wear 3100 will help to reduce the SoC's power consumption rather significantly. The net benefit from this, according to Qualcomm, is that device makers will be able to prolong the battery life of their devices by 4 to 12 hours when compared to the previous-generation Snapdragon Wear 2100 platform.
Qualcomm says that mass production of the Snapdragon Wear 3100 had already started, as have shipments to customers. The first companies to adopt the new SoC are Fossil Group, Louis Vuitton, and Montblanc.
As is usually the case for the chip vendor, Qualcomm is not disclosing when their customers intend to release their SW3100-powered watches to consumers. However what we're hearing from other sources is that the first watches should hit store shelves next month, in which case we're looking at a relatively quick turnaround time here.
Related Reading:
Source: Qualcomm