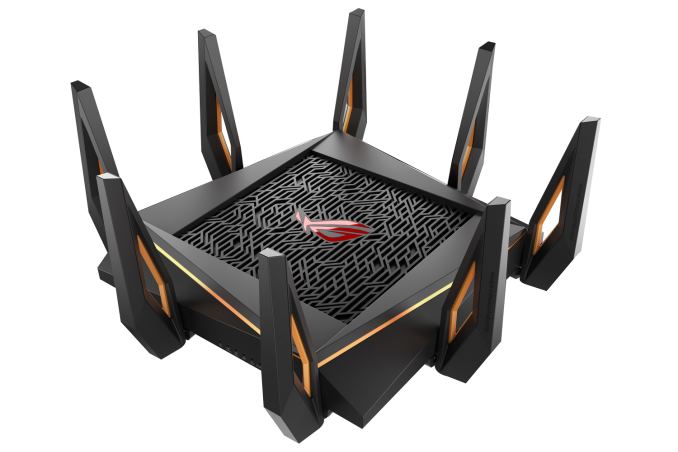 ASUS has announced a family of new routers designed to satisfy the ever-increasing bandwidth demands of the modern household. ASUS unveiled the ROG Rapture GT-AX11000 (ASUS says is the world's first tri-band 802.11ax router), the RT-AX88U (more conventional dual-channel design), and the AX6100 WiFi System purpose-built for creating your own mesh network supporting AiMesh.
ROG Rapture GT-AX11000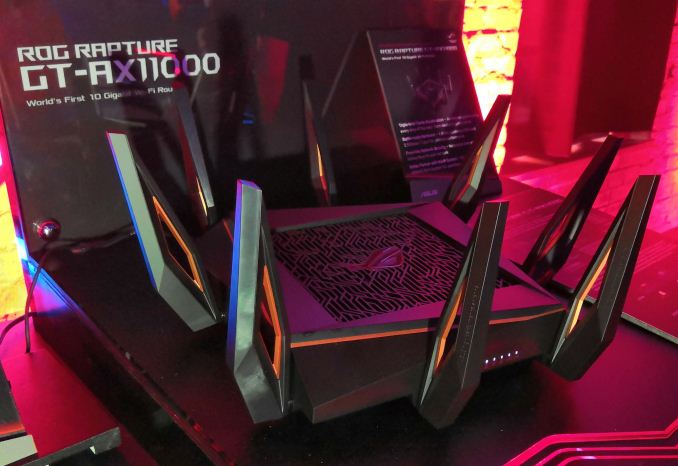 The ROG Rapture GT-AX11000 is the flagship Router and built for demanding networks. The ROG Rapture has a peak aggregate throughput of nearly 11000 Mbps: up to 1148 Mbps on the 2.4 GHz band and up to 4804 Mbps each of its dual 5 GHz bands (for a total of three bands). The additional 5 GHz band can be reserved for gaming devices to prevent other wireless activity from affecting the primary machines.
The Rapture has multiple Gigabit Ethernet for wired connectivity and has an additional 2.5 Gbps Ethernet port for those who are lucky enough to break that 1 Gbps barrier ISP. The extra bandwidth will allow for a single system to communicate with multiple gigabit-type devices at peak speeds or utilize NAS devices able to team ports for higher throughput. The router also uses Game Boost adaptive QoS to analyze network traffic and prioritize gaming traffic ahead of other items. WiFi traffic is passed through eight antennas on top making the router look more like a futuristic trap of some sort.
AX6100 WiFi System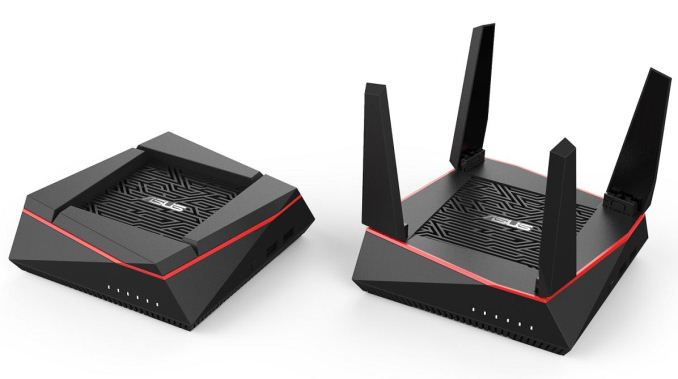 ASUS says all routers will support AiMesh (ASUS technology for mixing multiple routers to create a mesh network) but the new AiMesh AX6100 WiFi System is purpose-built for the task. The AX6100 comes in a two-pack designed to extend WiFi coverage. Additional nodes using other AiMesh-compatible routers are possible to add even if they are based on 802.11ac.
The AX6100, like the ROG Rapture, is a tri-band design. Its total aggregate throughput is up to 6100 Mbps with 4804 Mbps on the first 5 GHz band, the other offering 866 Mbps for 802.11ac devices, while the 2.4 GHz band able to reach 400 Mbps of 802.11n connectivity.
RT-AX88U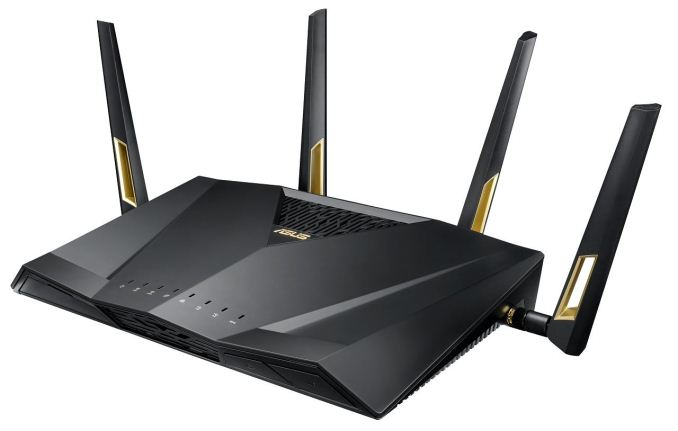 The RT-AX88U is said to use much of the same internals as the Rapture but used in a more conventional (read: less expensive) dual-channel design. The two bands support 802.11ax devices with 1148 Mbps on 2.4 GHz and up to 4804 Mbps on 5 GHz band for peak total bandwidth of about 6000 Mbps.
Wireless signals pass through four antennae with the wired connections managed by a Gigabit WAN for the ISP, and eight Gigabit LAN ports for local devices. Many routers only have four which makes this device good for multiple wired users in close proximity, or pre-wired homes with multiple desktop/media devices. Both the RT-AX88U and the ROG Rapture are powered by a quad-core processor (not named). It has dual USB 3.0 ports for shared peripherals as well.
The ROG Rapture GT-AX11000, AiMesh AX6100 WiFi System, and RT-AX88U will be available in Q3 2018. Pricing information was not listed.
More Computex news is found below.
Want to keep up to date with all of our Computex 2018 Coverage?

Laptops

Hardware

Chips
Follow AnandTech's breaking news here!