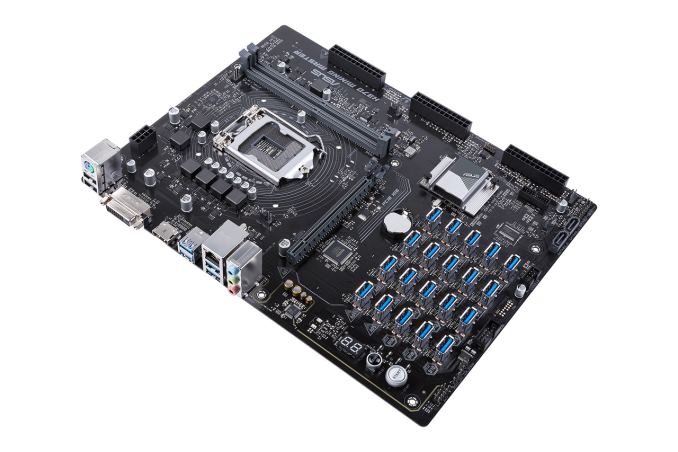 ASUS has announced the latest addition to its mining motherboards with the H370 Mining Master. This ATX sized board will support up to a mind-boggling 20(!) graphics cards via USB riser cables plugged directly into the PCB. Outside of an obvious benefit of increased density, ASUS says this setup can also minimize downtime by making problems easier to diagnose. The USB setup is said to allow miners to allocate more hardware and power budget to the GPUs doing the work rather than the infrastructure to support it. ASUS will be displaying a setup with this board at Computex using 12 Radeon RX470's and eight NVIDIA GeForce P104 cards.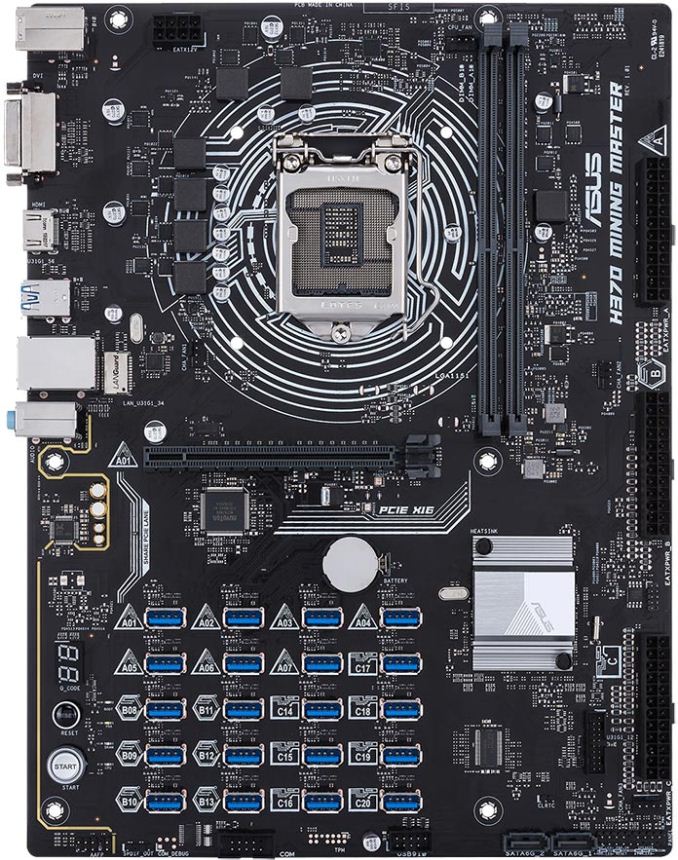 One of the first things one will notice on the board are the 20 USB 3.0 ports where one would normally see PCIe slots of varying sizes (on a mining motherboard, usually x1 slots). About the most we have seen in an ATX form factor is 18 in ASUS' own B250 Mining Expert. The banks of vertical USB ports are said to be sturdier than a PCIe card and enables cleaner wiring and less clutter around the motherboard.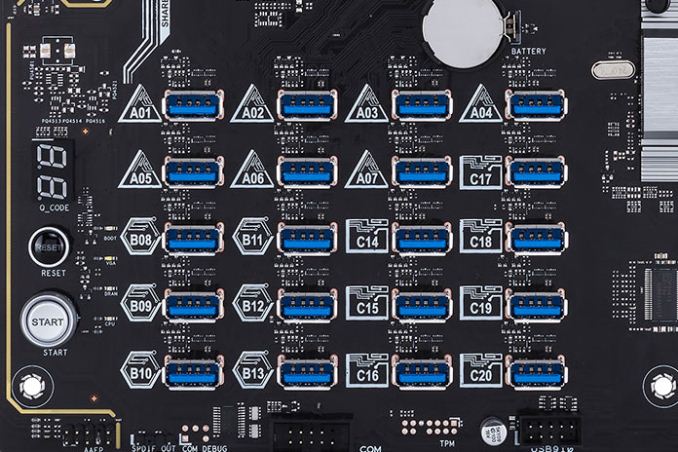 The board is able to support so many USB interfaces as crunching crypto blocks does not require a lot of interface bandwidth. Each card will use a PCIe x1 link which is routed over USB 3.0 wiring (USB 3.0, like PCIe, being a differential signaling bus). There are a few UEFI tweaks that are found in a special Mining Mode to help with efficiency. For example when in mining mode, the motherboard's PCIe lanes run at Gen 1 speeds for improved compatibility and stability when using USB riser cards. Above 4G decoding is enabled which assists with supporting a lot of video cards as well as Launch CSM being disabled letting the board and GPUs UEFIs synchronize with each other avoiding firmware changes.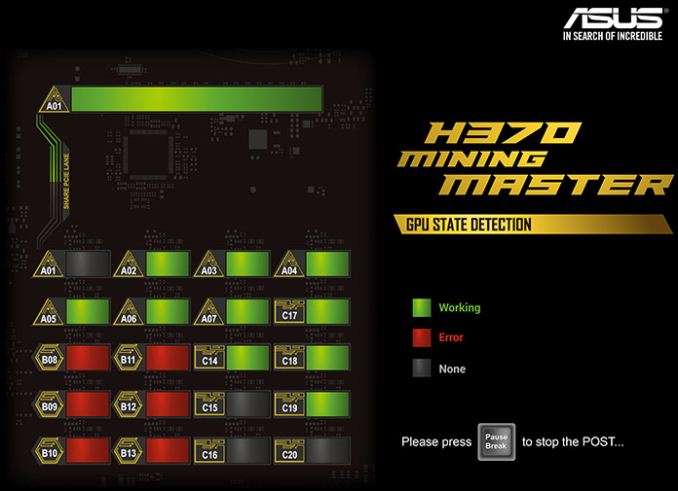 The ASUS H370 Mining Master includes a GPU state detection screen on POST displaying a graphical representation of the status of the cards (working, error, or none). The board also integrates individual debug LEDs for the CPU or memory that light up when there are problems which should further simplify the troubleshooting process.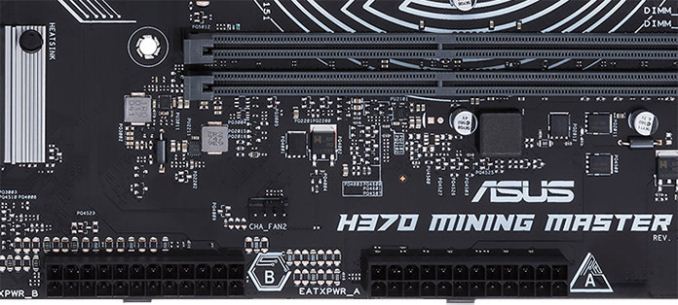 Another standout feature is the three 24-pin ATX plugs used to power the board to connect up to three PSUs simultaneously. Each port is connected to a separate bank of riser ports, allowing users to scale up the number of GPUs gradually and to add more power as needed. The H370 Mining Master can startup multiple PSUs without issue by simply plugging the PCIe power connector on each card into the PSU at the corresponding riser port.
Hardware wise the board stands on H370 chipset supporting Intel 8th Gen Core, Pentium, and Celeron processors while supporting up to 32GB of DDR4 2666 Non-ECC memory. It includes two SATA ports as well as Intel Gigabit LAN for network support. Video output can come from a GPU installed in the full-length PCIe slot (disables first USB riser port), or via HDMI or DVI-D outputs through the integrated GPU on the processor.
Love or hate the mining scene, ASUS has brought to the table another mining board with increased density and ease of use trying to get an even bigger slice of the mining pie while it lasts. Pricing was not listed and availability is said to be later this year.
ASUS H370 Mining Master Motherboard Specifications
Size
ATX, 12" x 9.1"
Socket
LGA 1151 for Intel 8th Gen Core, Pentium, Celeron
Memory
2 x DIMMs (max. 32GB), DDR4 2666 / 2400 / 2133
PCIe
1 x PCIe x16 slot
Storage
2 x SATA ports
Networking
1 x Intel Gigabit LAN
USB GPU Riser Ports
20 x Vertical USB ports over PCIe
USB Ports
6 x USB 3.0
4 x USB 2.0 /1.1
Other Ports
1 x COM Header
1 x HDMI
1x DVI
Related Reading: