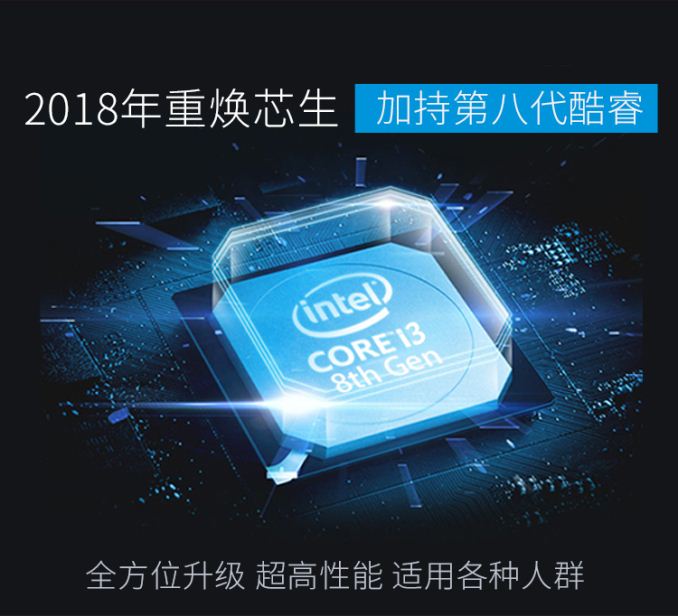 In the fruitless efforts to get an answer from Intel as to exactly who is buying their first 10nm processors using the new Cannon Lake microarchitecture, we seem to now have an answer. Lenovo, one of Intel's biggest partners for laptops, has a new Ideapad 330 model available through an official distributor on China's online retailer JD.
The Ideapad 330 is a low end unit in both price and design. The bottom configuration is only 3299CNY, which converts to around $449 pre-tax. This model will feature the new 10nm Core i3-8121, a dual core processor based on Cannon Lake running at a 2.2 GHz base frequency. Pairing with this CPU will be an AMD Radeon RX 540 2GB, as the Intel processor does not have integrated graphics - technically the silicon for them is there, but in this design it is disabled. Our original source, Computerbase.de, states that the processor can turbo up to 3.1 GHz.

The Cannon Lake-based Lenovo Ideapad 330 will be a 15.6-inch laptop, however with a 1366x766 display and a TN panel, both metrics earmarked for low end devices. The stock configuration will be with 4GB of DDR4-2133 memory via a single SO-DIMM module, and a 500GB 5400RPM rotational hard drive for 3299CNY - however the listing on JD.com does offer upgrades up to 8GB of memory, a 1TB spinning drive, and a 256 GB solid state drive, for 3899CNY. The listing does not state which memory configurations are single/dual channel or what brand of storage drives are being used. In actual fact, the images on the listing state DDR4-2133, but the specifications list states DDR4-2400.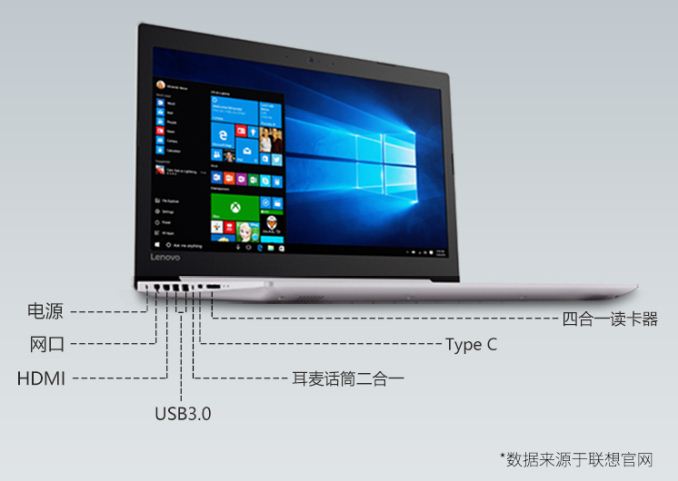 The unit will come in at 2.1 kg, and just under an inch thick at 22.7mm. The keyboard offers a full number pad , although it does come with half-height up and down arrow keys. Connectivity on the sides include an expandable gigabit Ethernet port, a HDMI port, two USB 3.0 Type-A ports, a Type-C port (of unknown standard), an SD card reader, a 3.5mm jack, a Kensington lock, and a CD/DVD drive. No metrics for battery life are given, however the retail page puts the component as an upgrade over the Core i3-6006U, Intel's low-end dual core Skylake-U processor for super budget systems.
Lenovo Ideapad 330 / 10nm Cannon Lake
CPU
Intel Core i3-8121U
10nm Cannon Lake
Dual Core
Four Threads
2.2 GHz Base
3.1 GHz Turbo (?)
No Integrated Graphics
GPU
AMD Radeon RX 540 2GB
Display
15.6-inch 1366x768 TN
Memory
4GB, DDR4-2133/2400
1 x SO-DIMM
8GB, DDR4-2133/2400
? x SO-DIMM
Storage
500 GB HDD or 1TB HDD, 5400 RPM
128GB SSD or 256 GB SSD
Dimensions
378 x 260 x 22.7 mm
2.1 kg
Battery
Unknown, listed as '5 hours' on JD.com
Features
Gigabit Ethernet port
2 x USB 3.0 Type-A
1 x USB ? Type-C
3.5mm jack
HDMI output
CD/DVD drive
Price Low
4GB DRAM
500 GB HDD
-
3299 CNY (~$445)
Price High
8GB DRAM
1TB HDD
256 GB SSD
4299 CNY (~$580)
OS
Windows 10 (variant unknown)
This level of system is designed for users that 'just need a system', and is often the choice for businesses that need a mobile platform for their employees. The listing states that this device is for entry level business and student use, although the promotional material does go into the gaming performance of the graphics over other similarly priced solutions.
This machine listed online means that we can confirm that Intel is indeed shipping 10nm components into the consumer market, ending some speculation as to whether Intel was shipping) even though they said they were) and where those components were going. It doesn't solve the question as to how Intel's 10nm process is coming along, especially for the bread and butter of Intel's next generation of processors which should be the backbone of Intel's financials over the next few years. Shipping a low-end dual core processor with disabled graphics doesn't inspire confidence, especially as it is labelled under the 8th gen designation, and not something new and shiny under the 9th gen - although Intel did state in a recent earnings call that serious 10nm volume and revenue is now a 2019 target. These parts are, for better or worse, helping Intel generate some systems with the new technology. We've never before seen Intel commercially use low-end processors to introduce a new manufacturing process, although this might be the norm from now on.
Related Reading
Source: Computerbase.de, JD.com