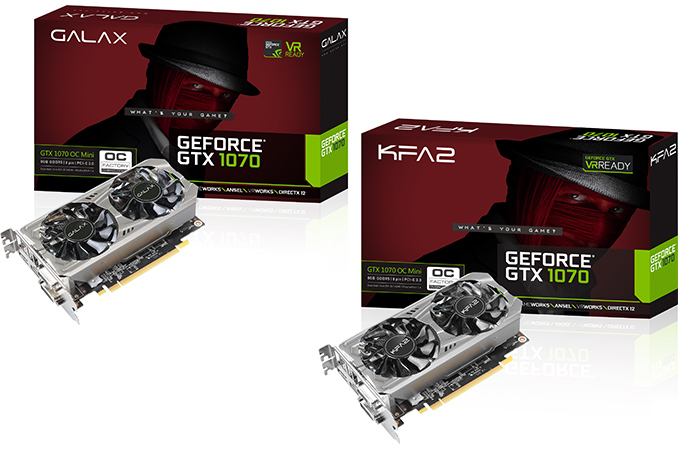 Palit has quietly released a GeForce GTX 1070-based video card for Mini-ITX systems under the GALAX and KFA2 brands. The product uses a unique PCB design and will be the third GeForce GTX 1070 graphics adapter for Mini-ITX PCs on the market.
Just like competing GeForce GTX 1070s in an ITX form-factor, the GALAX GeForce GTX 1070 OC Mini and KFA2 GeForce GTX 1070 OC Mini graphics cards offer the same level of performance as a full-size GTX 1070. Both boards carry NVIDIA's GP104 GPU (with 1920 stream processors, 120 texture units and 64 ROPs) that operates at 1518/1708 MHz (base/boost) as well as 8 GB of Micron's GDDR5 memory running at 8 Gbps. While the card runs a bit faster than NVIDIA's reference frequencies (+12/25 MHz for base/boost frequencies), its TDP remains the same at around 150W.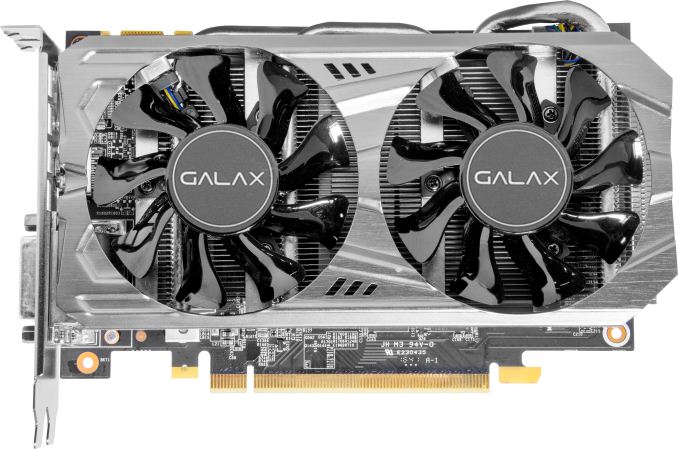 Both video cards use the same PCB design with a 4+1 VRM and one 8-pin PCIe power connector, which is inline what NVIDIA's reference boards offer. The VRM uses solid-state chokes, whereas its MOSFETs are cooled down by a separate heatsink. The main cooling system features a copper base, three thick nickel-plated heat pipes, a relatively large aluminum radiator, two fans and a metal cover. In fact, the cooler is larger when compared to cooling systems of some other Mini-ITX graphics cards and the adapter itself is a bit longer when compared to direct rivals (195/181 mm with/without a bracket, whereas a mini-ITX motherboard is 170mm).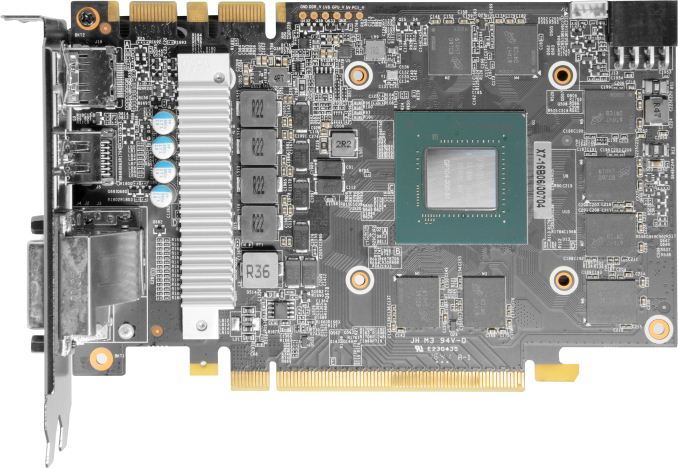 The dimensions of the GALAX/KFA2 GeForce GTX OC Mini cards are not going to become a problem in the vast majority of situations where a good performance mini-ITX gaming PC is concerned, however some users aiming at very small form-factor builds may end up finding it a tight squeeze.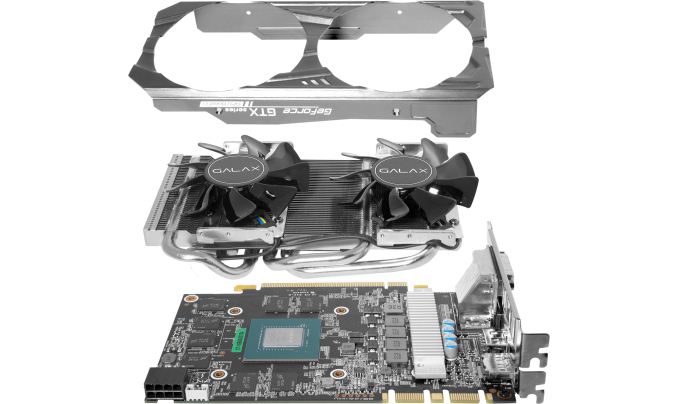 As for connectivity, Palit decided to offer something different from NVIDIA's reference designs and appeal to owners of older monitors (who use more than one of them) with DVI interface. Both cards are equipped with one DisplayPort 1.4 connector, an HDMI 2.0b port as well as two dual-link DVI-D ports. By contrast, NVIDIA-designed boards come with two DPs, an HDMI and only one DVI header.
Specifications of GeForce GTX 1070 for Mini-ITX PCs
GALAX GeForce GTX 1070 OC Mini
KFA2 GeForce GTX 1070 OC Mini
ZOTAC GeForce GTX 1070 Mini

GIGABYTE GeForce GTX 1070 Mini-ITX

NVIDIA
GeForce GTX 1070
Founders Edition
Stream Processors
1920
Texture Units
120
ROPs
64
Core Clock (MHz)
1518
1531 - 1556
1506
Boost Clock (MHz)
1708
1721 - 1746
1683
Memory
Capacity
8 GB
Type
GDDR5
Clock
8 Gbps
TDP
150 W
Length
195 mm
210 mm
169 mm
280 mm
Launch Date
Q1-2017
12/2016
7/2016
6/2016
Launch Price
unknown
$395

unknown

$449
Palit did not announce MSRP and ETA of its GALAX GeForce GTX 1070 OC Mini and KFA2 GeForce GTX 1070 OC Mini boards, but given that they are listed at respective web sites, expect them to show up on the shelves in the coming weeks. Meanwhile, as examples of other high-end Mini-ITX graphics cards show, the GPU manufacturers do not tend to charge a much more for an SFF card and prices of such adapters are very close to NVIDIA's MSRPs (which for the GTX 1070 is $379).
Related Reading: