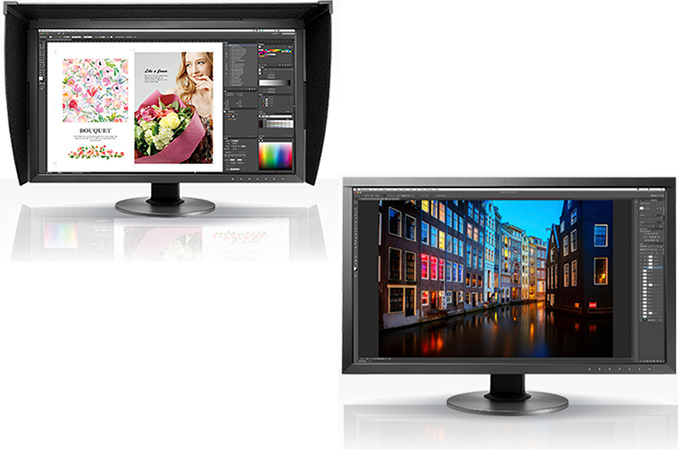 EIZO has introduced two new 27" displays designed for professionals and prosumers. The ColorEdge CG2730 and the ColorEdge CS2730 monitors share a lot of technologies and have a lot of similarities, but a number of distinctions allow EIZO to position and price them completely differently.
The EIZO CG2730 and the EIZO CS2730 displays are based on 27" 10-bit 2560×1440 IPS panels with a 60 Hz refresh rate. Based on the specifications, the monitors sport a 350 nits typical brightness, 1500:1 or 1000:1 static contrast, 13 or 10 ms ms response time, and 178° viewing angles. As for I/O capabilities, both devices are equipped with a triple-port USB 3.0 hub as well as DVI-D, DisplayPort 1.2 and HDMI 1.4 inputs. In addition, both monitors come bundled with the company's proprietary ColorNavigator 6 software, which can set the right brightness, gamma and other settings for photography, printing and web design with the help of calibration devices.
Apart from differences in static contrast and response time, the new monitors from EIZO have a number of other important differences. In particular, the higher-end professional EIZO Color Edge CG2730 can cover 99% of the Adobe RGB and 98% of the DCI-P3 color spaces. DCI-P3 is generally important for video editors and animation designers, who do post-production work, because the standard is used for digital movie projection in the U.S. and is expected to be adopted by television and home cinema industries in the future. In addition, the CG2730 is covered with a special retardation film, which ensures depth of dark tones when viewed from an angle. Moreover, to simplify calibration without using any third-party calibration devices, the monitor features a special sensor. Finally, the professional-grade display comes bundled with a shading hood that prevents glare.
EIZO's 2016 27" Displays for Professionals and Prosumers
ColorEdge CG2730
ColorEdge CS2730
Panel
27" IPS
Native Resolution
2560 × 1440
Maximum Refresh Rate
60 Hz
Response Time
13 ms
10 ms
Brightness
350 cd/m²
Contrast
1500:1
1000:1
Viewing Angles
178°/178° horizontal/vertical
Pixel Pitch
0.233 mm
Pixel Density
109 ppi
Anti-Glare Coating
Yes
Color Gamut
Adobe RGB: 99%
DCI-P3: 98%
Adobe RGB: 99%
Power Consumption
33 W ~ 95 W
44 W ~ 110 W
Inputs
1 × DP 1.2 (HDCP)
1 × HDMI (HDCP, DeepColor)
1 × DVI-D
USB Hub
3-port USB 3.0 hub
2 USB Type-B upstream ports
By contrast, the EIZO ColorEdge CS2730 is aimed at entertainment enthusiasts and prosumers. It only covers 99% of Adobe RGB color space and does not support the aforementioned pro-level features of the CG2730 (yet, it has better response time and that is important for gamers). Realistically speaking, the difference between two displays should not be too dramatic for a non-professional eye in typical applications because both are based on 10-bit IPS panels with 16-bit look-up-table and have similar brightness. Meanwhile, when it comes to contrast and the quality of dark colors, the CG2730 is expected to be significantly better than its consumer-oriented brother.
EIZO did not announce MSRPs for its new displays, but said they would be available in November. Just like other ColorEdge monitors the new CG2730 and CS2730 come with a five-year warranty, which is longer than warranties offered by some other display manufacturers.
Source: EIZO