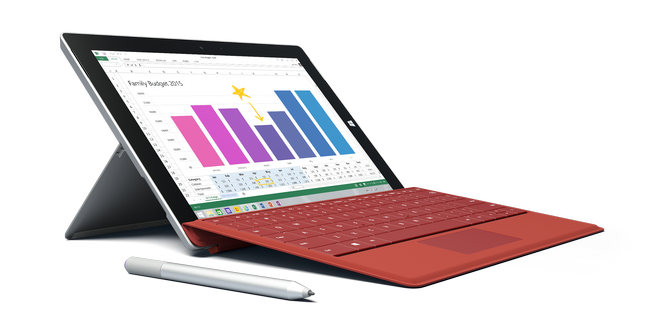 File this under "I'm not shocked" but Microsoft has confirmed today that the Surface 3 tablet will cease production by the end of December. The Surface 3 first launched way back in the spring of 2015, and after its review it quickly jumped to the top of the stack in the Windows tablet space. The design, excellent display, and 3:2 aspect ratio still makes it one of the best sub-$500 Windows tablets today.
So the news that it's going to cease production in six months is not especially exciting – after all it will be going on two years old by that point. The real question is what is going to come next. The Surface 3 is a Cherry Trail Atom design, with a quad-core x7-8700 processor. The successor to Cherry Trail has been axed by Intel though, leaving a big gap in Intel's lineup. They have confirmed that Apollo Lake will be available for tablet makers, but it's certainly not a drop-in replacement for Cherry Trail.
Certainly this long after Surface 3 launched, there is plenty of room for improvement. USB-C has become more commonplace, and could easily replace the micro-USB charging which was a major hindrance on the Surface 3, leading to excessive charge times. One of the biggest issues with the Surface 3 was the sub-par storage performance, and on a new model it would be great to see NVMe based storage. The Surface 3 is also 50% thicker and heavier than the iPad Air 2, but it does have a built-in kickstand of course.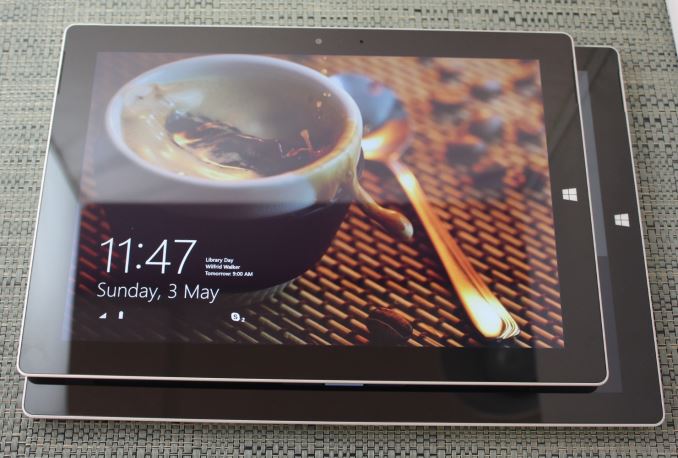 Surface 3 on top of Surface Pro 3
We've not had any indication from Microsoft on a replacement device, so there's no indication whether this model will be updated with a refreshed Surface 4, or just cancelled outright. The lack of a new Atom processor might force their hand. While it would be great to see this appear with a new Core M based part, unless Intel revamps that lineup, the pricing of that CPU would likely be the death knell of this smaller Surface device.
If you were looking at one of these, the 128 GB storage option also includes 4 GB of memory, and the price has dropped to $399/$449 without LTE. Stock is limited. It's still one of the best Windows tablets around, despite its shortcomings.