First Thoughts
Wrapping up our preview of the GeForce GTX 1080, I think it's safe to say that NVIDIA intends to start off the 16nm/14nm generation with a bang. As the first high-end card of this generation the GTX 1080 sets new marks for overall performance and for power efficiency, thanks to the combination of TSMC's 16nm FinFET process and NVIDIA's Pascal architecture. Translating this into numbers, at 4K we're looking at 30% performance gain versus the GTX 980 Ti and a 70% performance gain over the GTX 980, amounting to a very significant jump in efficiency and performance over the Maxwell generation.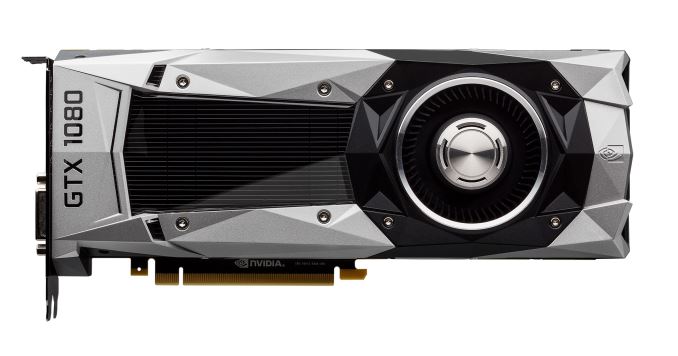 Looking at the bigger picture, as the first vendor to launch their 16nm/14nm flagship card, NVIDIA will get to enjoy the first mover's advantage both with respect to setting performance expectations and with pricing. The GeForce GTX 1080 will keep the performance crown solidly in NVIDIA's hands, and with it control of the high-end video card market for some time to come. NVIDIA's loyal opposition, AMD's Radeon Technologies Group, has strongly hinted that they're not going to be releasing comparable high-performance video cards in the near future. Rather the company is looking to make a run at the much larger mainstream market for desktops and laptops with their Polaris architecture, something that GP104 isn't meant to address.
The lack of competition at the high-end means that for the time being NVIDIA can price the GTX 1080 at what the market will bear, and this is more or less what we're looking at for NVIDIA's new card. While the formal MSRP on the GTX 1080 is $599 – $50 over what the GTX 980 launched at – that price is the starting price for custom cards from NVIDIA's partners. The reference card as we've previewed it today – what NVIDIA is calling the Founders Edition card – carries a $100 premium over that, pushing it to $699.
GeForce GTX 1080 Configurations
Base
Founders Edition
Core Clock
1607MHz
1607MHz
Boost Clock
1733MHz
1733MHz
Memory Clock
10Gbps GDDR5X
10Gbps GDDR5X
Cooler
Manufacturer Custom
(Typical: 2 or 3 Fan Open Air)
NVIDIA Reference
(Blower w/Vapor Chamber)
Availability Date
June 2016?
05/27/2016
Price
Starting at $599
$699
While the differences between the reference and custom cards will be a longer subject for our full review, the more immediate ramification is going to be that only the Founders Edition cards are guaranteed to be available at launch. NVIDIA can't speak definitively for their board partners, but at this point I am not seriously expecting custom cards until June. And this means that if you want one of the first GTX 1080s, then you're going to have to pay $699 for the Founders Edition card. Which is not to say that it's a bad card – far from it, it's probably NVIDIA's finest reference card to date – however it pushes the card's price north of 980 Ti territory, some $150 higher than where the GTX 980 launched in 2014. For those who can afford such a card they will not be disappointed, but it's definitely less affordable than past NVIDIA x80 cards.
Anyhow, we'll be back later this week with our full review of the GeForce GTX 1080, so be sure to stay tuned.